Pros
I like the citrus scent
Slick shaving cream
Cons
Lack of lather
Does not produce the same result as my traditional soap and creams
Hey guys and welcome to Prim and Prep!
Today I am going to be doing a very unorthodox shaving cream review for you guys.
The product I will be reviewing is Cremo shave cream.
This is not traditional wet shaving cream.
You do not need the bowl or a brush to whip up the shaving cream.
Cremo shave cream is simply the traditional "modern" shaving cream that you simply apply to your face.
Ever since I discovered wet shaving, I have not looked back to these modern shaving creams.
One of my good friends that have not made the transition to wet shaving (yet), tells me that this is the best shaving cream that he is ever used.
He demanded that I do a review on the Cremo shaving cream.
I did not end up buying this crema shaving cream, he just lent me an extra tube that he had.
I have been using this shaving cream off and on for the last month.
Using a traditional safety razor (because I'm definitely not going back to cartridge razors) in order to give it a good comparison against my traditional shaving soaps and creams that I use for wet shaving.
Let's jump right into my Cremo shave cream review so you can learn whether it can hold its own against my favorite shaving creams/soaps.
Be sure to check out how it stacks up against P&P's definitive list of the best shaving soaps and best shaving creams.
Detailed Cremo Shave Cream Review
The Scent
When I first cracked open the top of my friend's Cremo cream tube, the overwhelming aroma of citrusy orange came flying out.
It has a very strong scent to it, which smelled slightly chemically but not nearly as much as the canned aerosol or gels that you typically get from the pharmacy.
This is the only scent that they have I am pretty sure.
Since I am a fan of citrus and orange especially, it did not bother me too much.
If you are sensitive to overwhelming scents, this Cremo shave cream might be a little too overwhelming for you.
The Latherability
Since this is not a traditional wet shaving soap or cream, this section does not really apply but I will still talk about it a little bit.
The instructions on the back of the tube say: add hot water to your face for 30 seconds before applying the Cremo shave cream.
They say that you only need an almond-sized dollop of shaving cream and they claim that the shaving cream is "water-activated" and that it does not lather that much.
And just like they said, there was very little lather that came from rubbing it into my skin with my hands.
Overall I give the lather ability factor is zero haha.
While this is true, there is the Cremo lathering shave cream that lathers much more.
Don't forget, if you are using traditional shaving cream or soap it is important to have a quality shaving brush to achieve a great lather.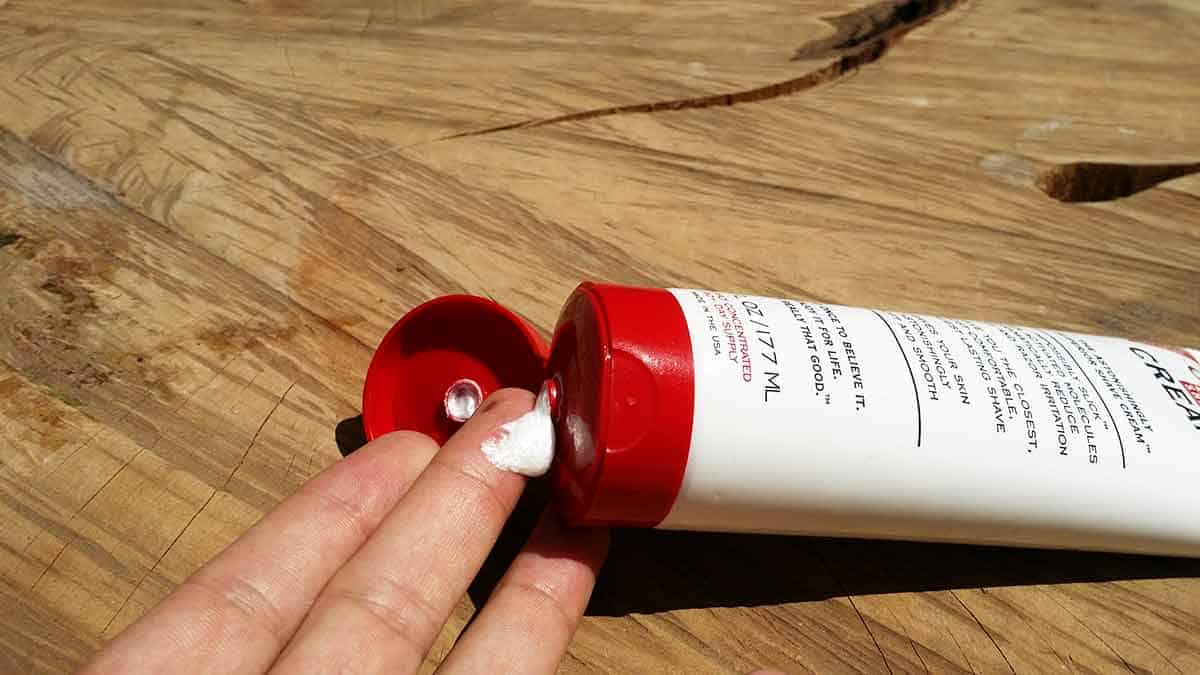 The Performance
Overall I think the Cremo shave cream is very slick, and that is a good thing.
The blade did a fine job of gliding across my skin without cutting me or giving me too bad of a razor burn.
Well, before you ask, this is how to use Cremo shave cream effectively to achieve that smooth shave you so much desire.
And although it is slick, I would recommend reapplying new cream to your face if you are going to do multiple passes with your safety razor.
And although the cream performed well with shaving, it did not condition my skin as well as my favorite shaving soaps and creams.
If you look at the ingredient list of this shaving cream you will see that there is are a lot of them.
I got into wet shaving because I wanted a more natural shaving experience.
My skin typically reacts better to shaving creams that have fewer ingredients.
Overall the ingredients sounded a lot more chemically them the majority of my natural soaps and creams that I typically use, and my skin showed the difference after my shaves.
Cremo shave cream dried out my skin a little bit more than I would have liked.
The Longevity
This tube is exactly 6 fluid ounces and will cost you approximately 6 dollars on Amazon.com.
Although it does say to use an almond-sized dollop, for multiple passes you should use the same amount.
So depending on how many passes you do, you could go through this to the tube in as little as three months of daily shaving and it probably won't last you longer than six months.
I love my shaving soaps and creams because they produce tons of lather, and I can do this many passes as I want without having to use more products.
Cremo Shave Cream Review Conclusion
For the most part, I think Cremo shave cream is a decent shaving cream compared to the typical aerosol cans and gels that contain 1 million chemicals.
It does provide a very slick shaving cream and my passes with my razors went well.
But to be honest I really love the process of whipping cream in my shaving bowl using my badger hairbrush.
It is very meditative for me and I enjoy the whole process.
I also enjoy a vast amount of lather which this Cremo shave cream will never provide me.
I am glad I did the experiment of going back to a non "wet shaving" cream just to compare and contrast.
What I have learned is that I love my shaving soaps and creams even more now.
I like simple ingredients that are all-natural.
This is the best for my skin and I also get fantastic shaves from it as well.
This Cremo shaving cream review, just like other Cremo reviews (Cremo beard cream review and Cremo shampoo review) gives you an in-depth perusal of one of my best men's shaving creams.
So in conclusion, no, Cremo is not better than traditional soaps and creams!
However, this Cremo astonishingly superior ultra-slick shaving cream will be well complemented with a Cremo post-shave balm to help soothe irritation or razor burn.
You may also want to check out other Cremo products like the Cremo moisturizing shave cream and Cremo bourbon shave cream.
Whatever cream or soap you use, it is essential to have a top-quality safety razor or one of the best straight razors on the market.
Also, check out the difference between straight (cut-throat) razors and safety razors in this infographic.
I hope you guys liked my Cremo shave cream review!
Leave me a comment down below and tell me what you guys thought!
If you found this article helpful please be so kind as to share it on Facebook or other social media per the buttons below.
We really would appreciate it as we have worked so hard on this post for you.
I have a feeling some of your friends and family will find it helpful as well.
Also, be sure to join the Prim&Prep community!
Not only will you have a chance to WIN your choice of a quality safety razor or beard oil but we will provide you with all kinds of helpful and enlightening male grooming tips and advice directly to your inbox so you don't have to waste your time fiddling on the web to find the right information to look and feel your best.
There is nothing to lose and so much to gain.
SIMPLY SUBSCRIBE BELOW!