Pros
Good weight makes for an easy shave
Great craftsman ship
Looks sexy
Cons
Does not have the best grip
Long handle is not ideal for small hands
Expensive
I had seen this safety razor on Amazon months ago but never decided to pick it up because I usually do not buy Off-brand safety razors.
Due to a recommendation from a friend and because I heard they were using a Muhle head, I decided to pick up the Jack Black Double Edge Safety Razor and try it out.
Is a very unusually shaped safety razor compared to the traditional safety razor.
But after my Jack black shaving for a few months, I can tell you that there's something oddly pleasant about shaving with the Jack black razor.
I get an extremely close and safe shave with little effort.
Let's jump right into my Jack Black double edge safety razor review so that you can learn more about this three-piece safety razor.
If you are just getting into wet shaving I suggest that you check out my article on the best safety razors as well!
Weight and Balance
The Navy blue Jack Black safety razor weighs in at a heavy 2.8 ounces.
And although this is a decent weight for a safety razor, it looks like it should weigh a lot more due to how thick the handle is.
In terms of balance, I would say that it has a very even distribution.
Unlike most safety razors, there is no marking to let you know where you should put your forefinger.
And that is the biggest downfall about balancing the Jack black razors.
Even though it does not have any marking on the handle, you still naturally know where your hand should go due to the shape of the handle.
This could possibly be due to the fact that I have large hands, but this safety razor sits very natural with me.
Grip
This is probably the biggest downfall about the safety razor in most people's opinions.
Unlike Merkur, Parker, or any of the other big brands, it does not have vertical, horizontal, or gritty metal on the handle.
In most cases this would make for absolutely terrible grip.
But in the case of the Jack Black safety razor it is actually not that bad.
That is due to the fact that the handle gets wider as it goes down.
If you keep your fingers of the certain width, the handle should not slip out of your hands.
That being said, it is still not as efficient as having some sort of grooves along the handle.
Sure the look of the safety razor will be sacrificed but overall it would be helpful for balance as well as grip purposes.
Length
The Jack Black safety razor comes in at 4.75 inches long.
This is definitely longer than most safety razors that are on the market.
For me, since I have large hands it is a very reasonable length to work with.
That is because I can maneuver the safety razor from one position to the other without any trouble.
For people with small hands I would recommend getting something a little bit shorter in length.
Aggressiveness
The Jack Black double edge safety razor uses either a traditional Muhle or Edwin Jagger head.
It is a relatively mild safety razor.
I would rate it at about a three or a four on my aggressiveness scale.
It is really made for beginners in mind.
If your facial hair grows extremely thick you might want to consider getting something more aggressive or buying some extremely sharp blades for the safety razor such as feather.
Be sure to check out our article on the best safety razor blades.
Blade Replacement
The blade replacement on this safety razor is the same as any other three-piece safety razor.
Obviously it is not as easy as a butterfly open or even a two piece safety razor but it is still extremely easy and should have no problem replacing blades.
The head design is on point for the safety razor.
The blade does not move around at all once tightly screwed into place. Be sure to check out our article on the best safety razor blades on the market today!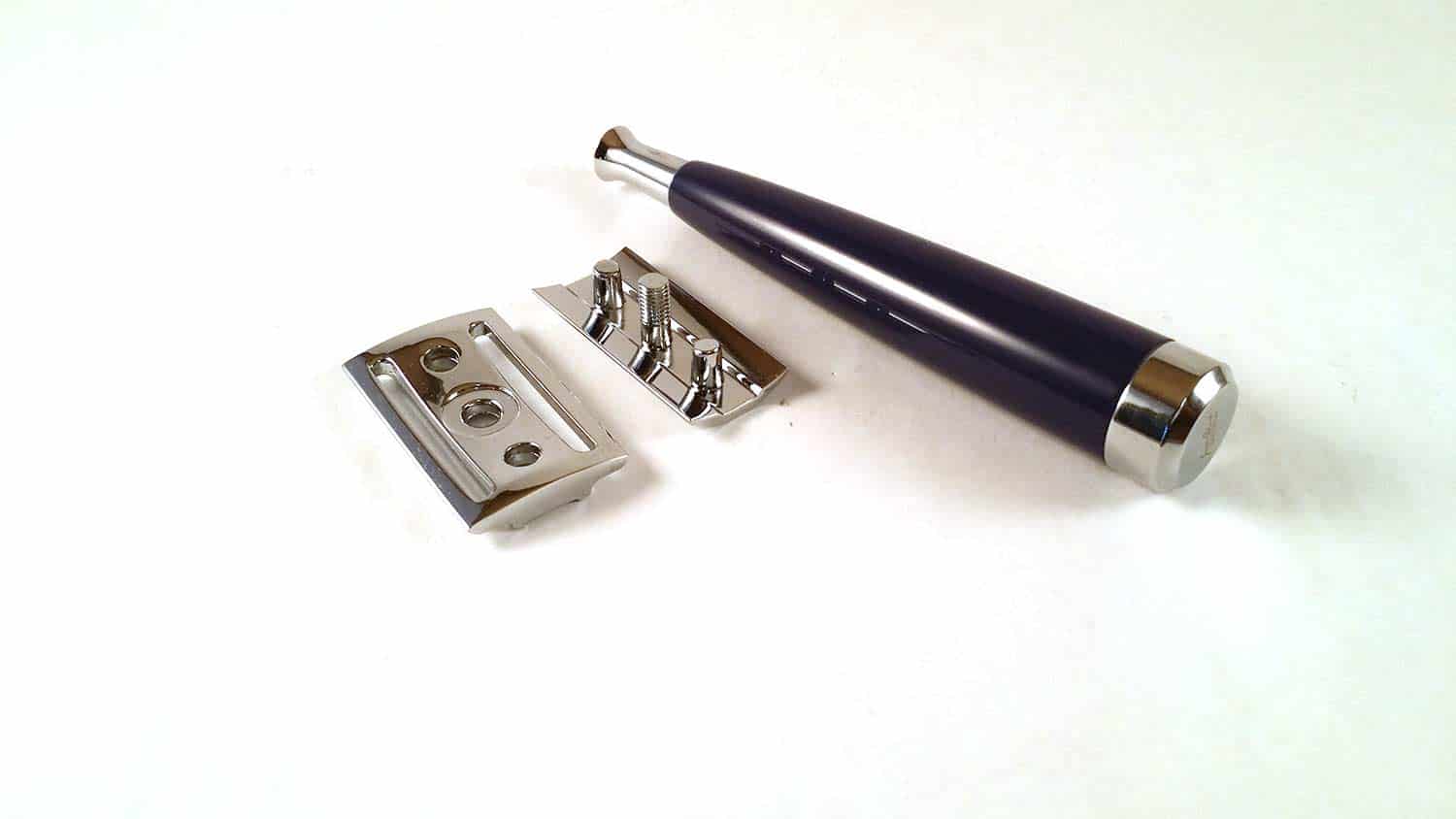 Jack Black Double Edge Safety Razor Review Conclusion
Overall I was extremely impressed with the Jack Black double edge safety razor.
In general, Jack black mens product reviews are quite impressive.
I thought that the grip would be the biggest problem and that I would end up not using it, but due to the increase in width as the handle goes down, I have no problems holding onto this even with soapy hands.
And due to the weight of the safety razor I really don't need to put too much effort into shaving.
I let the weight do all the work.
It is a mild safety razor so if you have a thick stubble you should consider getting a very sharp blade or buying a more aggressive safety razor.
Overall I will be using this safety razor because it is very elegant looking and I like the way looks as well as the great shave I get from it.
Let me know what you think of my Jack Black double edge safety razor review in the comment section below!
Check out our infographic on straight razors vs safety razors as well as the top-rated straight razors on the market.
Also be sure to check out our definitive lists of the best shaving soaps, shaving creams for men, best shaving brushes, and even best shaving bowls so you can have the ultimate kit.
Hey! Don't Leave Yet!
If you found this article helpful please be so kind as to share it on Facebook or other social media per the buttons below.
We really would appreciate it as we have worked so hard on this post for you.
I have a feeling some of your friends and family will find it helpful as well.
Also, be sure to join the Prim&Prep community!
Not only will you have a chance to WIN your choice of a quality safety razor or beard oil but we will provide you with all kinds of helpful and enlightening male grooming tips and advice directly to your inbox so you don't have to waste your time fiddling on the web to find the right information to look and feel your best.
There is nothing to lose and so much to gain.
SIMPLY SUBSCRIBE BELOW!