Pros
It is Really cheap
Easy to clean
Cons
Extremely light weight
The balance is pretty bad
The grip is pretty bad
Loose headpiece does not sit the blade perfectly
Lord L6 Review - Come learn about this budget safety razor!
Hey guys and welcome to my review on the Egyptian made, inexpensive, Lord L6 safety razor.
If you are just getting started in the art of wet shaving Lord razors (like the Lord L6) might be a good option because it is a very small initial investment.
This is a good way to test the waters so to speak.
Wet shaving is not for everyone, but I am confident that once you get started, you will never turn back!
Before we get started talking about the details of the Lord safety razor I want you guys to understand one thing.
I will be comparing this safety razor to all the other safety razors that I have used and reviewed.
So I am comparing this Lord razor against extremely high-end safety razors.
So although I might be ragging on it, relative to other safety razors, it is still a decent option for people that don't want to invest too much money.
Let's hop right into this review to see what this beginner's safety razor is all about!
Weight and balance
The Lord L6 weighs in at 1.5 ounces.
This is extremely light, even compared to safety razors that have short handles.
This three-piece safety razor is made out of two different materials.
The two pieces that make up the head are chrome plated and make up the majority of the weight.
The handle is made out of aluminum and is light as a feather.
Obviously, this makes the safety razor extremely head heavy.
The point of balance on this safety razor is a half-inch below the headpiece.
Relative to how long the handle is, this point of balance is way too high.
This makes it difficult when transitioning from one hand position to another while shaving.
Grip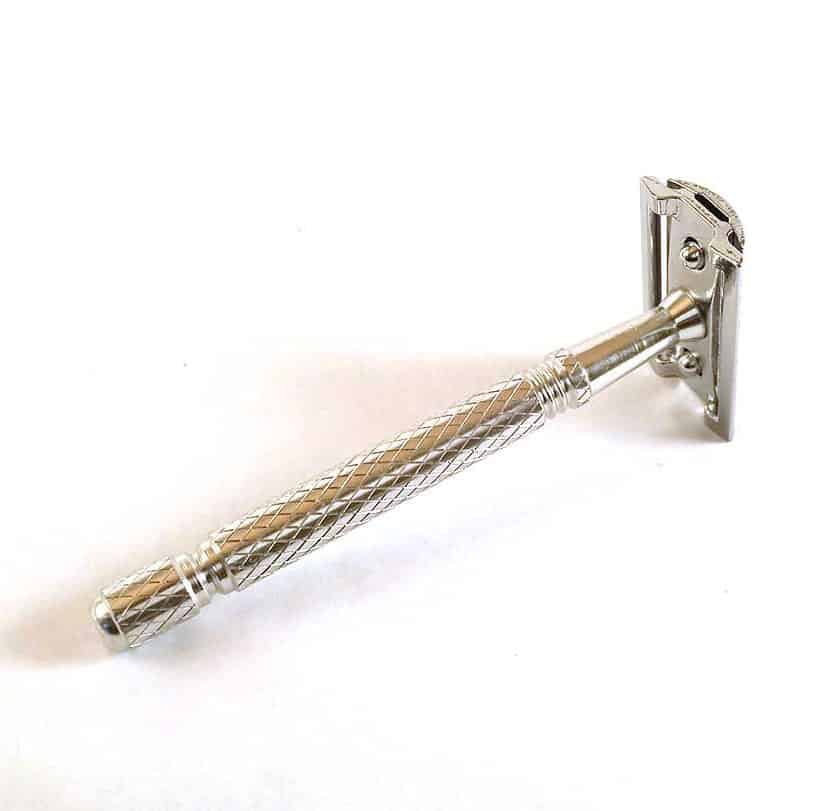 The aluminum handle has cross-sectional grooves that form diamond shapes on the majority of the handle.
These grooves do not cut too deep and provide very little grip overall.
There are however deeper horizontal grooves towards the top and bottom of the handle.
This is where you should hold at the top of the handle while shaving.
It doesn't feel the most comfortable but it gives me the best grip overall.
One part that I didn't like was how thin the handle is from the top to the bottom.
Most safety razors have a knob close to the top for the purpose of resting on a razor stand.
There is no part of this safety razor that is wide enough to rest on a razor stand.
Length
The overall length of the Lord L6 is 4.25 inches.
This is by far one of the longest safety razors I've ever used.
I really enjoy the long handle especially because I have pretty big hands.
I can see how this would be a pain for people that have smaller hands.
This is especially true because the point of balance is so high up on the handle.
Aggressiveness
The headpiece used on the Lord L6 slightly resembles that of a three-piece Merkur.
The blade gap is fairly small on this safety razor but overall it gave a more aggressive shave than I was expecting.
On my aggressiveness scale, I would rate it a 5/10.
The two pieces that make up the head are slightly loose-fitting and do not hold the blade evenly across both sides.
I noticed that it was sliding around a little bit while I was shaving.
Check out my full article that explains what safety razor aggressiveness is if you are unsure.
Blade Replacement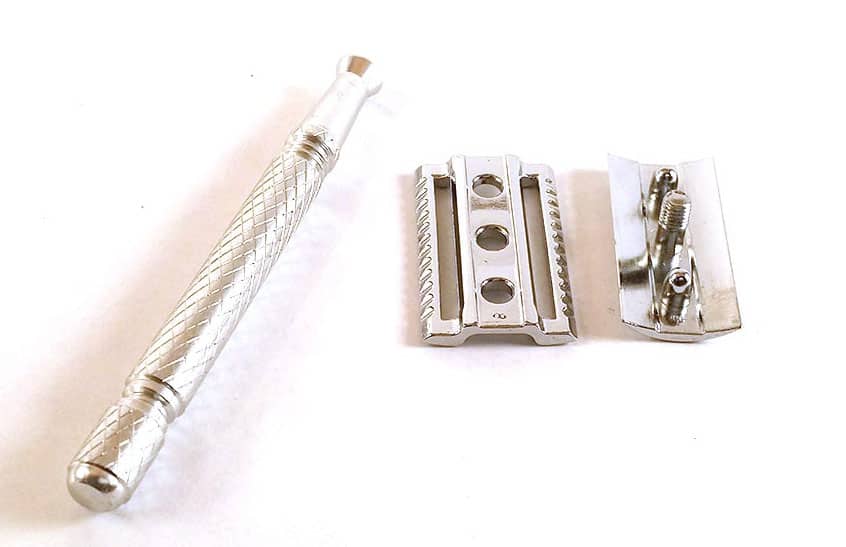 The handle on this three-piece safety razor comes on and off pretty easily.
It's as simple as any other three-piece safety razor on the market.
For how cheap the Lord L6 is, I am glad that they made if you a three-piece safety razor.
Generally, cheap butterfly open safety razors break really easily.
There are multiple different types of safety razors that operate the same but are put together completely differently.
Be sure to check out our article on the best safety razor blades on the market today!
Conclusion
As you can see from my review, there are plenty of areas to improve upon on the Lord L6 safety razor.
It is an extremely light safety razor that has a less than optimal balance point for shaving.
The handle has a nice length, especially if you have larger hands, but might pose some problems if you have smaller hands.
The construction of the safety razor is decent overall because it is hard to mess up a three-piece safety razor.
The two pieces that make up the head are slightly loose and do not seat the blade perfectly.
But if you are just starting out with wet shaving and would like to try a razor out before you fully commit to a more expensive model, this safety razor is a good choice.
It is slightly more aggressive than I would like for a beginner, but for $10, it is really hard to go wrong!
If you are a veteran to wet shaving I would recommend this safety razor as nothing more than a travel razor.
That way if you lose it, no big deal!
I hope my Lord L6 review was helpful for those of you that were on the fence.
I have an article on my favorite safety razors that you should check out as well and don't forget the importance of a quality razor blade and shaving cream or soap.
Don't forget to check out our infographic on straight razors vs safety razors as well as our list of the top straight razors on the market.
Let me know your experiences with this beginner's safety razor!
Hey! Don't Leave Yet!
If you found this article helpful please be so kind as to share it on Facebook or other social media per the buttons below.
We really would appreciate it as we have worked so hard on this post for you.
I have a feeling some of your friends and family will find it helpful as well.
Also, be sure to join the Prim&Prep community!
Not only will you have a chance to WIN your choice of a quality safety razor or beard oil but we will provide you with all kinds of helpful and enlightening male grooming tips and advice directly to your inbox so you don't have to waste your time fiddling on the web to find the right information to look and feel your best.
There is nothing to lose and so much to gain.
SIMPLY SUBSCRIBE BELOW!