Pros
Very Sleek and Well Built
The Black Handle Looks Cool
Good Grip
Cons
The Black Handle is Harder to Clean
Does not Weigh That much
Merkur 30C Review – The Little brother of the 20C
Alongside the Merkur 20C safety razor, its little brother the Merkur 30C is the one we will be reviewing in this article today.
The biggest difference is the overall weight of the safety razor as well as the overall length of the safety razor.
The 30C has a black anodized aluminum handle that feels like hardened rubber.
If you like to have a black-looking theme with bathroom utensils, this might be a perfect safety razor for you.
I honestly love the way that it looks and feels.
There are so many articles that compare the various Merkur models (merkur 37c vs 34c, merkur 33c vs 34c, merkur 38c vs 34c, merkur 34c vs 23c) in terms of quality, weight, craftmanship and handle length.
The Merkur 30C however, has the same quality craftsmanship as all other Merkur safety razors (best Merkur safety razors) and has a uniqueness to it that is quite different than any of their other razors.
Let's jump right into the Merkur 30c review so you could learn all about it.
Also, be sure to check out which Merkurs made the definitive guide on best safety razors.
Weight and Balance
The Merkur 30C weighs in at exactly 2 ounces.
It is .2 ounces lighter than its big brother but .41 ounces heavier than the Merkur 46C travel safety razor.
Just like his older brother, the balance point seems a little bit head heavy.
This is no problem though because your fingers are still on the grip while shaving.
Due to the fact that it has a shorter handle, it makes it easy to transition from one hand position to the next from the natural balance point.
Grip
The anodized aluminum has grooves in it that spiral down the handle counterclockwise from the top of the handle down to the bottom.
This surprised me because the larger 20C spirals down clockwise from the top to the bottom.
I am not sure if this varies from safety razor to safety razor or if they are just the opposite.
Either way, the counterclockwise spiral will be more beneficial for left-handed shavers because their thumbs will be perpendicular to the grooves while shaving compared to right-handed shavers who will be parallel to the grooves.
Either way, you should have no problem with the grip during your shave, whether you are right-handed or left-handed.
Length
The Merkur 30C is exactly 1 inch shorter than the 20C.
This will be perfect for people with smaller hands because the handle will not get in the way as you are transitioning from one hand position to the next.
Personally, because I have large hands I prefer longer handles.
If possible you should try holding some safety razors that your friends might have to see what size you think would be perfect for you.
Aggressiveness
The aggressiveness of the Merkur 30c is exactly the same as the 20c.
Both have a very similar(or exactly the same) head as the Merkur 33c or Merkur 180.
I would rate the aggressiveness as a 4/10 on my aggressiveness scale.
This is a great aggressiveness for any beginner to start out on.
I would rarely recommend getting something more aggressive than this if it will be your first experience using a safety razor or don't know how to use a Merkur safety razor.
If you have a very thick beard I would recommend starting with a sharper blade but not getting anything more aggressive.
Blade Replacement
This is a three-piece safety razor.
Just like any other three-piece safety razor, it is fairly easy to replace the blade.
It is not quite as easy to replace the blade as a two-piece safety razor or a butterfly open safety razor but it is still quite easy and safe.
The craftsmanship by Merkur on this safety razor is amazing just like their other safety razors.
The blade sits perfectly with no movement in the headpiece.
Be sure to check out our article on the best safety razor blades, top straight razors, and the difference between both razors.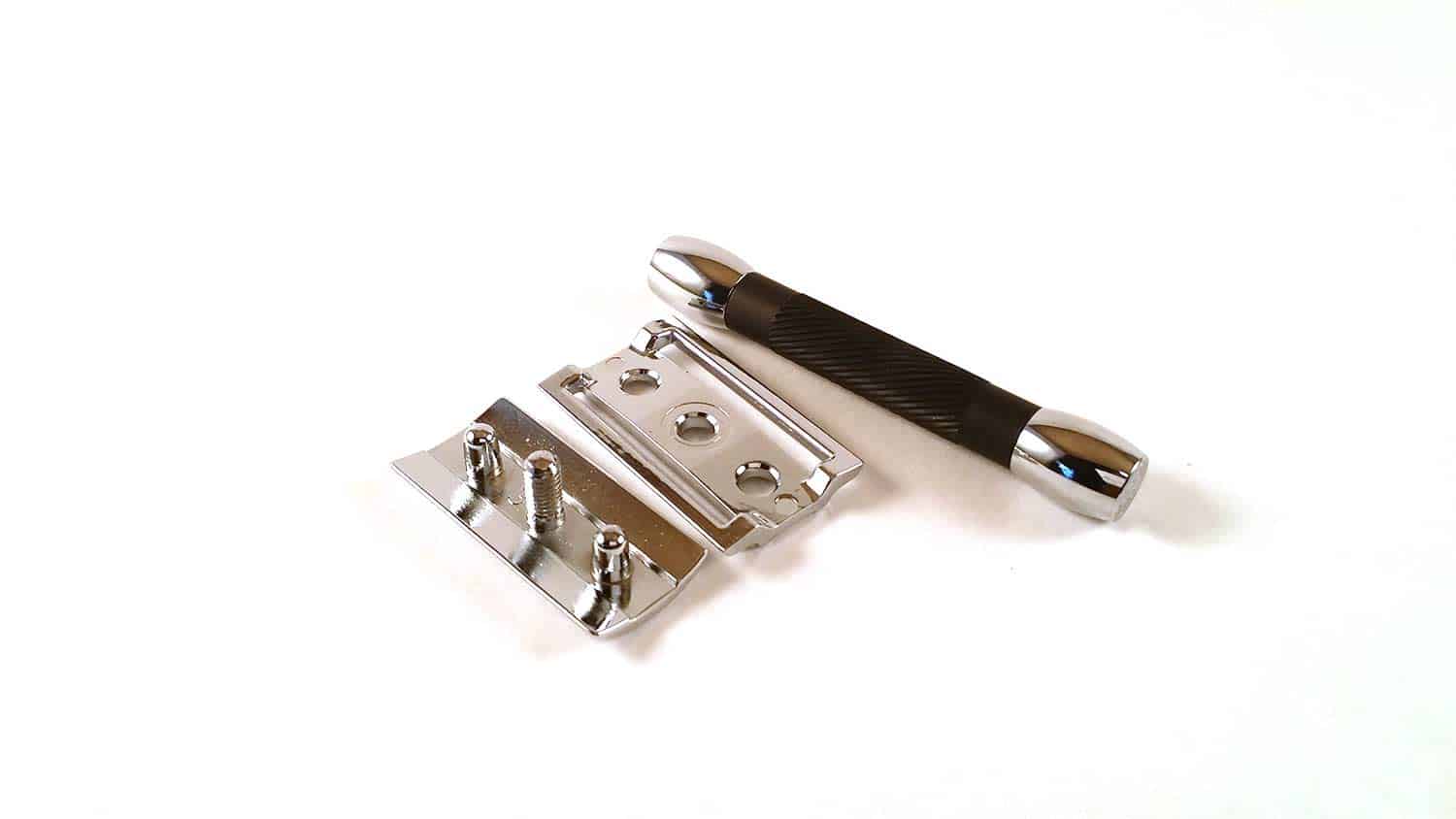 Merkur 30C Review Conclusion
Overall I think this is a fantastic safety razor because it is very sturdy and well crafted.
I would recommend the Merkur 30c over the 20c for people with smaller hands that need to maneuver the safety razor without the handle getting in the way.
The biggest downfall is that because the whole handle is made of black anodized aluminum, it is a lot harder to clean once the soap scum starts getting inside of the grooves of the handle.
It is not impossible to clean but in my opinion it is much harder.
This would be a good razor for any beginner!
Let me know what you guys thought of my Merkur 30c review by leaving a comment down below.
If this article was helpful to you please share it on social media using one of the buttons on the side of the website.
Also be sure to check out our definitive lists of the top shaving soaps, best shaving cream for men, shaving brushes, and even shaving bowls so you can have the ultimate kit. Thanks and Happy shaving!
Hey! Don't Leave Yet!
If you found this article helpful please be so kind as to share it on Facebook or other social media per the buttons below.
We really would appreciate it as we have worked so hard on this post for you.
I have a feeling some of your friends and family will find it helpful as well.
Also be sure to join the Prim&Prep community!
Not only will you have a chance to WIN your choice of a quality safety razor or beard oil but we will provide you with all kinds of helpful and enlightening male grooming tips and advice directly to your inbox so you don't have to waste your time fiddling on the web to find the right information to look and feel your best.
There is nothing to lose and so much to gain.
SIMPLY SUBSCRIBE BELOW!