Hey, there, and welcome to the Personna Razor Blades Review.
This was actually the very 1st razor blade that I purchased.
It was also the only wet-shaving equipment that I purchased at an actual brick-and-mortar store.
I got my 1st safety razor (1961 Gillette Adjustable Razor) from my dad.
He had actually never personally used it but it was handed down to him from his father.
I went to 7 different stores trying to find a razor blade to put in the ancient tool I had just acquired.
None of the major convenience stores like CVS or Safeway carried them(none of the workers even knew what a safety razor was!).
It was not until I found a locally owned store in the very corner of a tiny shopping center at the very edge of town that I finally found these Personnas!
Surprisingly enough, to this very day, I still find them to be one of my favorite blades and was a shoe on the list of the best safety razor blades!
The specific personnas that I am talking about in this article are the regular stainless steel blades.
These things come in a blue box with a weight Personna logo.
Though I would never buy them from the store again because they cost 3 times as much compared to Amazon!
Let's get into the Personna Razor Blades Review-my first blade ever!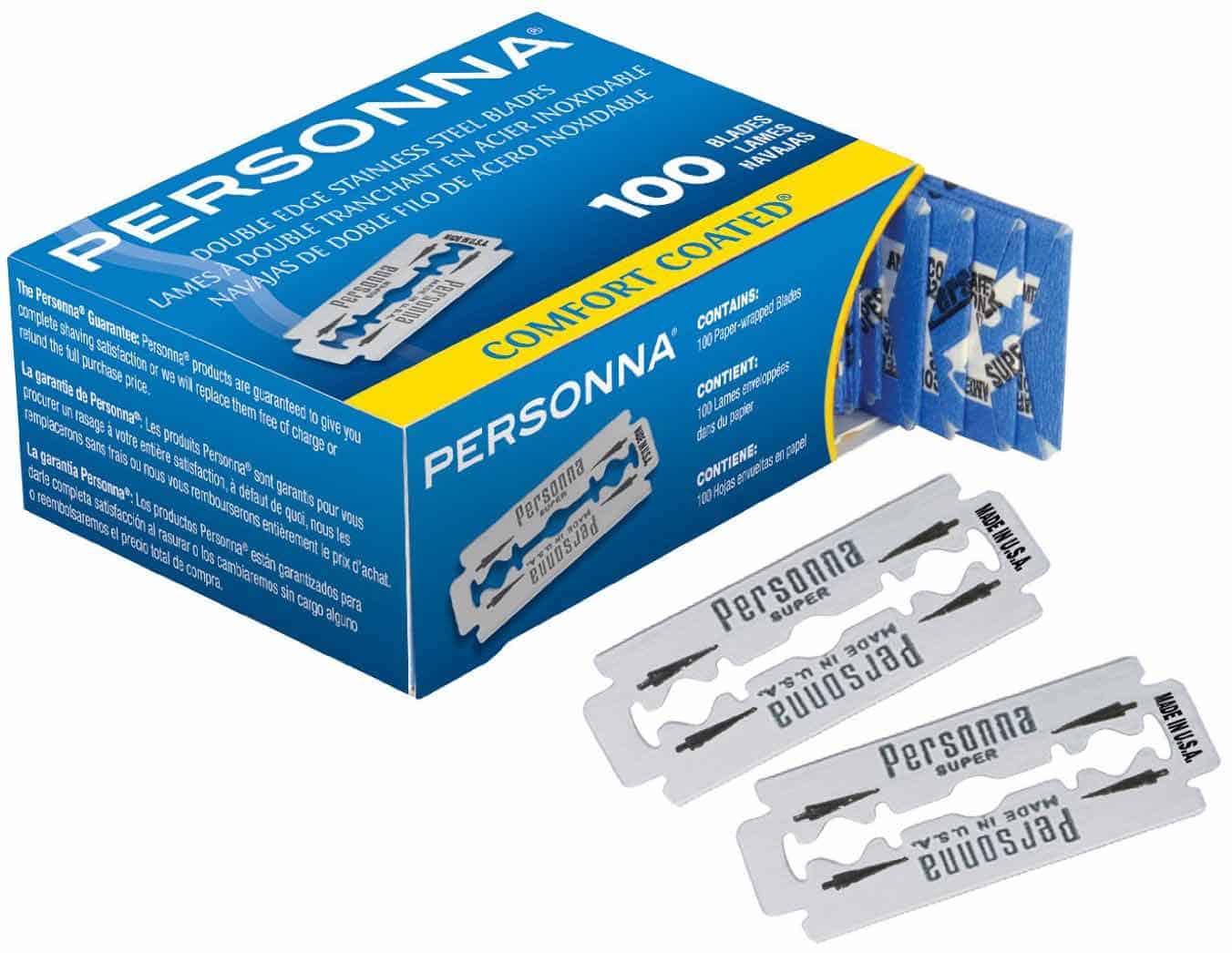 Personna Razor Blades Review
The Sharpness of the Blade:
If I knew that these Personna double edge razor blades were one of the sharpest on the market I probably would have used them for my 1st attempts at wet shaving(I definitely got some cuts!).
In this Personna Razor Blades Review, I rate the sharpness a 9 out of 10 on the sharpness scale.
Feather razor blades are still much sharper than these (I rate them a 10).
And if you are a beginner to wet shaving just make sure that you shave against the grain of your hairs if you are using a blade this sharp.
Although I ended up with some cuts on my face I still got an amazingly close shave compared to my crappy old electric shaver.
As I got better at shaving I realized that these Personna razor blades are much better than most others.
I get great shaves every time!
Longevity of the Blade:
Out of my top five razor blades, these platinum personnas have the lowest longevity.
Don't get me wrong these things will still last a decent amount of time but they do tend to wear down around my 5th or 6th shave.
It all depends on the type of hair that you have.
These things could last 2 weeks or more if you have very fine hair and do not need to shave very often.
In this Personna Razor Blades Review, I rate these Personna razor blades a 6 out of 10 on my longevity scale.
Price:
The Personna razor blades are very reasonably priced.
They are not the cheapest of the top-quality razors but they are close, with a box of 100 blades costing around $13 on Amazon, equating to $0.13/blade.
This is significantly cheaper than the Feather Blades which cost about $0.30/blade.
It is important though to keep in mind the longevity of the blades.
As shown in this Personna Razor Blades Review, if you are going through Personna razor blades a lot faster with a cheaper blade, your shave cost may be higher than shaving with a more expensive blade that lasts much longer.
Of course, I have to mention though that even though I am comparing the prices between these various blades, the big picture comparison is how these blades cost next to nothing relative to the traditional 3 blade cartridge razors!
Conclusion on Personna Razor Blades Review
Although I ended up using these Personna razor blades for my very 1st time wet shaving, in this Personna Razor Blades Review, I would not recommend something so sharp if you have never tried it before.
These blades will get me some insanely close shaves but they tend to wear down a little faster than the other four blades that are in my top five.
There is no breaking in period of the Personna razor blades and they stay consistent until the very end when they experience a noticeable drop in how sharp they are.
I would definitely give them a shot at some point.
On Amazon, they have an overall rating of 4.7 and cost approximately $13 for 100 blades.
This works out to approximately $.13 per blade!
Try comparing the price to a modern 3 replaceable cartridge!
I hope you will like to contribute to my Personna Razor Blades Review!
Safety razors are great, but the latter gives the closest shave when compared with straight razors.
Check out what thousands of other users have to say about Personnas!
Leave a comment if you have any questions or experiences with this blade.
Apart from this Personna Razor Blades Review, be sure to check out my other reviews on other shaving products including the best straight razors, top safety razors, best shaving soaps, and best shaving brush brands.
Frequently Asked Questions
1. Who makes Personna razor blades?
American Safety Razor manufactures Personna Razor Blades in the United States.
These popular blades are sharp, incredibly smooth and pleasant since they are made from the best grade Stainless Steel and then Comfort-Coated.
2. What are Personna blades used for?
Wet shavers love these Personna blades because of their smoothness and modest aggressiveness.
As shown in the Personna Razor Blades Review, the blades are made of stainless steel and have a comfort-coated edge.
They suit most regular safety razors as double edge razor blades.
3. Are Personna blades sharp?
The sharpness and smoothness of the Personna blades really compliment each other.
The blades' sharpness is well beyond normal, allowing them to glide across the shaving surface.
It's razor-sharp enough to shave even the thickest, coarsest hairs with ease.