The Astra razor blades that I will be talking about in this review are the Astra superior premium platinum blades.
They come in the forest green box with the blue Astra logo.
I initially ended up purchasing these Astra razor blades from Amazon based on the hundreds of positive reviews that they got.
I have heard that these blades are produced by Procter and Gamble (the people that make Gillette) so I know that they have years of experience with wet shaving products.
The very first shave I had with these blades I achieved the baby butt smooth level (closest shave you can get) and that is one of the reasons it made the list of the top safety razor blades on the market.
Let's take a look at what makes these Astra platinum double edge safety razor blades so good.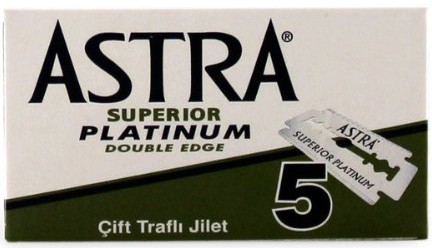 Sharpness of the Blade:
I rate these Astra razor blades a 9 out of 10 on the sharpness scale.
These blades feel exactly like the personas that I have.
The sharpness of Astra razor blades seems to keep for quite a long time and the blade dulls very slowly.
If you are just starting out I would recommend not shaving against the grain and stick to shaving with the grain for the first month or two.
These things can easily cut you if your technique is not well-practiced.
Longevity of the Blade:
The longevity of these Astra razor blades is what makes them one of my favorites.
The sharpness continues from the very first shave and has a slow and gradual decline.
I still feel comfortable shaving with these things on my 7th and 8th shave.
I don't think I would go past ten shaves personally but if I did it would not be the most uncomfortable shave(just not preferable).
I rate these Astra Razor blades an 8 out of 10 on the longevity scale.
I would not say my hair is as coarse as some people's but it is also not that thin.
The longevity of any of these Astra platinum blades that I review depends mostly on the type of hair that you have.
Price:
The price of the Astra double edge razor blades is pretty darn good as they cost around $0.10 a blade when purchasing a 100 pack.
This kind of price is even better when you consider the blade's average longevity.
When you consider these two factors the cost per shave with this blade is one the lowest.
As always, I must remind you that the costs of these blades are a mere fraction of the prices charged for traditional three-blade cartridge razors.
Conclusion and Other:
You can't go wrong with the Astra superior platinum blades.
I would not recommend something quite as sharp if you are just starting out with wet shaving.
Instead, I would go with Derby extra's or the Merkur platinum's which are some of the best safety razor blades for sensitive skin.
Astra blades vs feather – Astra razor blades are almost as sharp as feather blades, but definitely not as aggressive.
Overall these things give me a fantastic shave and last a very long time to boot.
The packaging that they come in is overall very nice.
The hundred pack that I purchased contains 20 smaller containers that each holds 5 blades.
It closely resembles the Derby extra hundred pack that I own.
The hundred pack costs approximately $10 on Amazon and has a 4.6/5 rating from over 400 reviewers!
This comes out to approximately $.10 for each blade!
The only problem that I have is that the paper that individually wraps each blade has a little too much glue on it.
I have had trouble peeling off the paper and in some situations, this could lead to cutting oneself.
Thanks for stopping by and reading my Astra razor blades review!
Make sure to check out what hundreds of others have to say about this product!
Shoot me a comment if you have some other information on these blades or a question!
Be sure to also check out my other reviews including P&P's ultimate guide to the best safety razors and top-tier shaving soaps.
Also out our infographic on straight razors vs safety razors and our list of top-of-the-drawer straight razors.