Pros
It smells like amazing key lime pie
It provides a very slick shave that is hydrating
Cons
It takes a little bit longer to build up the perfect lather
It does not last as long as other shaving soaps and creams
Taconic Shaving Cream Review – Key Lime Pie Goodness!
Hey guys and welcome to PNP.com!
In today's article I will be doing a Taconic shaving cream review.
This company has three primary shaving creams that I have tried and are quite popular.
They have Eucalyptus mint, Bay Rum, and tequila lime scents.
I decided to focus on the tequila lime shaving cream for this review because it is my favorite one of the three and I have done too many Bay rum reviews to count.
This is a very unique shaving cream that comes in a 4-ounce tub.
Currently, it is running for approximately $16 on Amazon which makes it a premium cream in terms of dollars per ounce.
Let's get right into my Taconic shave cream review so that you could see if it is worth the premium price.
Also, be sure to check out how it compares to our list of the best shaving creams.
The Scent
As I mentioned in the introduction paragraph, I am focusing on the tequila lime scent.
In my opinion, it is not overwhelming like most creams on the market.
And in all honesty, I love key lime pie so this cream tickles my fancy.
When I first opened the tub I had a slight urge to take some of the creams out and taste it because it smelled so good just like any natural shaving cream would.
Definitely smells a lot more like lime than it does tequila, but I do smell a hint of the tequila.
If you are a fan of key lime pie, you will love the smell!
The Latherability
The lathering factor is probably the only negative thing I have to say about this shaving cream.
It does take a lot more work compared to other shaving creams such as Proraso.
I feel that I need to use a little bit more cream in order to get the right amount and the right consistency of lather that I prefer.
It is recommended that you use a warm shaving bowl as well as a warm brush.
Some soaps and creams you can get away with using cold water, but I highly recommend using warm water with Taconic products in order to build up a quality lather in less time.
Because for this shaving cream brand, you have to use slightly more of the product, you will end up going through the tub a little bit faster than I would like.
Once you do build the lather up it is extremely high-quality.
The tequila lime scent definitely comes out with the lather which I find incredible.
Be sure to check out who we have found to make the best shaving brushes that whip up a great lather.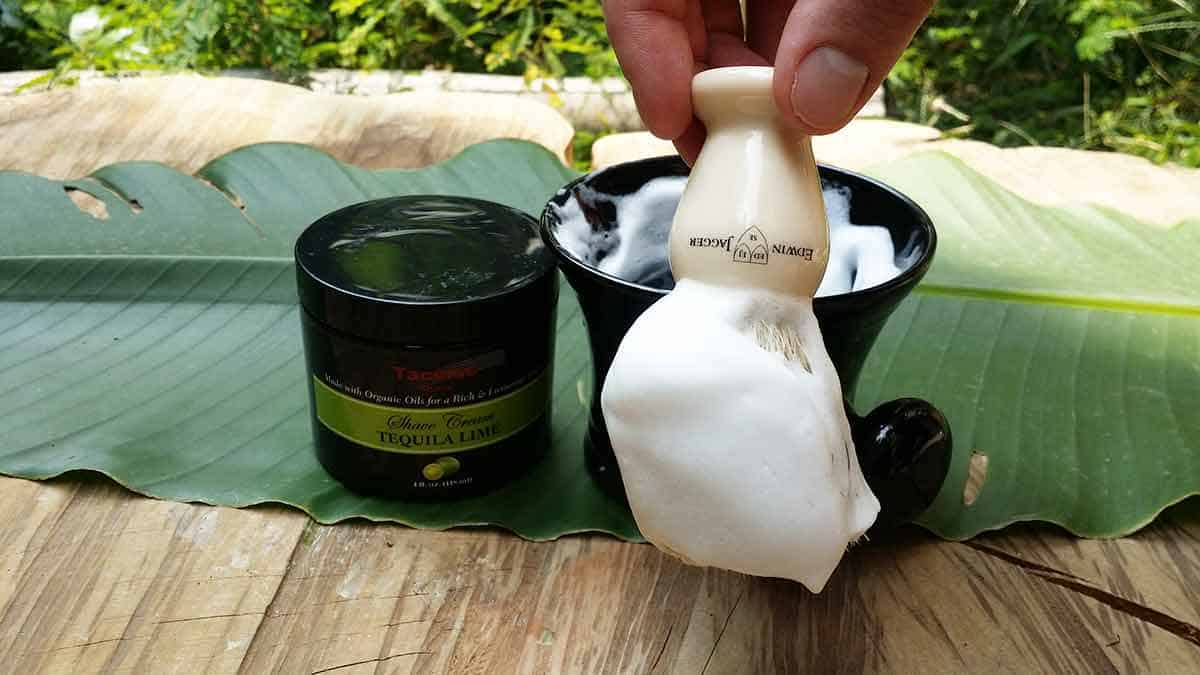 The Performance
I definitely find the performance of this shaving cream better than most creams and soaps that I own.
Even if you already know how to use shaving creams, it does take more work to build the lather but once you get it going it is very slick and dense.
It does a fantastic job of hydrating your hairs.
The passes that I make feel cool on my skin and I have no trouble getting through the hairs.
Since it is difficult to build the lather, I have noticed that the product dissipates faster than I would like it if you do not spend enough time building the lather.
It does take more practice to build the right consistency lather, but when you do there's not too much trouble with dissipation.
Unlike a lot of soaps and creams that I own, Taconic left my skin completely hydrated after the shave with no noticeable drying.
If you feel any form of skin irritation (which I doubt you'll), you can check for other shaving cream alternatives like shaving lotions or shaving gels (some believe these are less irritating to the skin).
This is one of the most important factors when it comes to shaving creams for me.
I was also very impressed with how slick the lather was.
After a shaving pass, I am able to go back and make touchups because there is a slick film on my face remaining.
The Longevity
Because it requires a little bit more cream to build the proper lather, I end up going through the entire tub faster than I would like.
If you are a daily shaver it should last you approximately 6 months at the very most.
I wish they came in a 5-ounce tub but overall I think that the price is worth this unique scent and shave that you receive from the Taconic tequila lime shaving cream.
Taconic Shaving Cream Review Conclusion
If you are looking for a truly unique shaving cream with a particularly unique scent, Look no further!
The tequila lime shaving cream is one of my all-time favorites.
Definitely, one of my best shave creams ever! and I'll classify it among one of the best men's shaving creams.
And although it is more difficult to build a perfect lather, the performance and hydration factor of this shaving cream is well worth it.
Most shaving creams leave my skin slightly dry because I have sensitive skin.
Taconic products actually hydrate my skin to the point that I don't need to use aftershave lotion while using this product.
This makes it my recommended best shaving cream for sensitive skin (not many shaving creams can soothe my skin's sensitivity).
I think this counterbalances the price point due to the fact that I don't need to use aftershave lotion products.
For a fantastic smooth shave, check out our list of best straight razors as well as our safety razor vs straight razor infographic.
Be sure to also check out our article on the best shaving soaps and our guide on the best safety razors.
Let me know what you guys thought of my Taconic shaving cream review!
Also if this was helpful please share it with your friends and family using one of the social media buttons on the side!
Now get out there and start shaving!
Hey! Don't Leave Yet!
If you found this article helpful please be so kind as to share it on Facebook or other social media per the buttons below.
We really would appreciate it as we have worked so hard on this post for you.
I have a feeling some of your friends and family will find it helpful as well.
Also be sure to join the Prim&Prep community!
Not only will you have a chance to WIN your choice of a quality safety razor or beard oil but we will provide you with all kinds of helpful and enlightening male grooming tips and advice directly to your inbox so you don't have to waste your time fiddling on the web to find the right information to look and feel your best.
There is nothing to lose and so much to gain.
SIMPLY SUBSCRIBE BELOW!