Pros
Produces tons of quality lather
Will last a long time
Hydrates hairs very well
Leaves a nice cool/clean sensation on your skin
Cons
Some people might find the smell overwhelming
Proraso Shaving Cream Review – A Wet Shavers Dream
Hello, visitors of PrimandPrep.com!
This is the first Proraso shaving soap review that I have done on this website.
The best shave cream reviews are meant to help you get the right Proraso products for your skin.
In my Proraso shaving cream review, you'll learn all about this very popular wet shaving cream from Proraso shaving products.
This actually was the very first shaving cream that I used when I first got into wet shaving.
Over the last few years, they have a revamped formula for their classic Eucalyptus and menthol shaving cream.
Although I'd also have some other scented shaving cream from them such as sandalwood, I will be reviewing the most popular as well as my favorite scent from Proraso, the Eucalyptus in the menthol formula.
Apart from Proraso shaving cream review, it is important to know how to use Proraso shaving cream since it is available in variants for all skin types.
The way that I rate shaving creams, as well as soaps, is based on the following criteria: scent, lather ability, performance, and longevity.
Let's get right into my Proraso shaving cream review so that you can find out if it will pair well with your safety razor and blade for the ultimate shaving experience.
Also, be sure to check out P&P's best shaving cream for men article.
Scent
When I first cracked open my first tube of Proraso, I thought the Eucalyptus in menthol smell was a little overwhelming.
And since my skin is relatively sensitive to chemicals I was worried that it might irritate my skin after my shave.
This does not mean that I didn't like the smell, it just meant I was worried about how my skin would react.
In fact, I love the smell of the eucalyptus of menthol.
It is a very soothing smell that reminds me of when I was a kid running around the Eucalyptus trees in my neighborhood.
It is not a mild scent by any means, so for people looking for something mild or with no scent at all, this is definitely not the shaving cream to go with.
But if you love scented shaving cream, it is a great choice.
Latherability
Out of all of the best-wet shave creams and soaps that I have (which are literally dozens), this might be one of the best lathering shaving creams on my shelf.
It only takes an almond-sized dollop in order to whip up a ton of cream.
The scent of the lather comes out even more as you whip it up. It produces a creamy, rich, and extremely soothing lather.
It does not matter whether I am using a boar brush, badger brush, or a synthetic, I always get an extremely thick lather very quickly with Proraso shaving cream.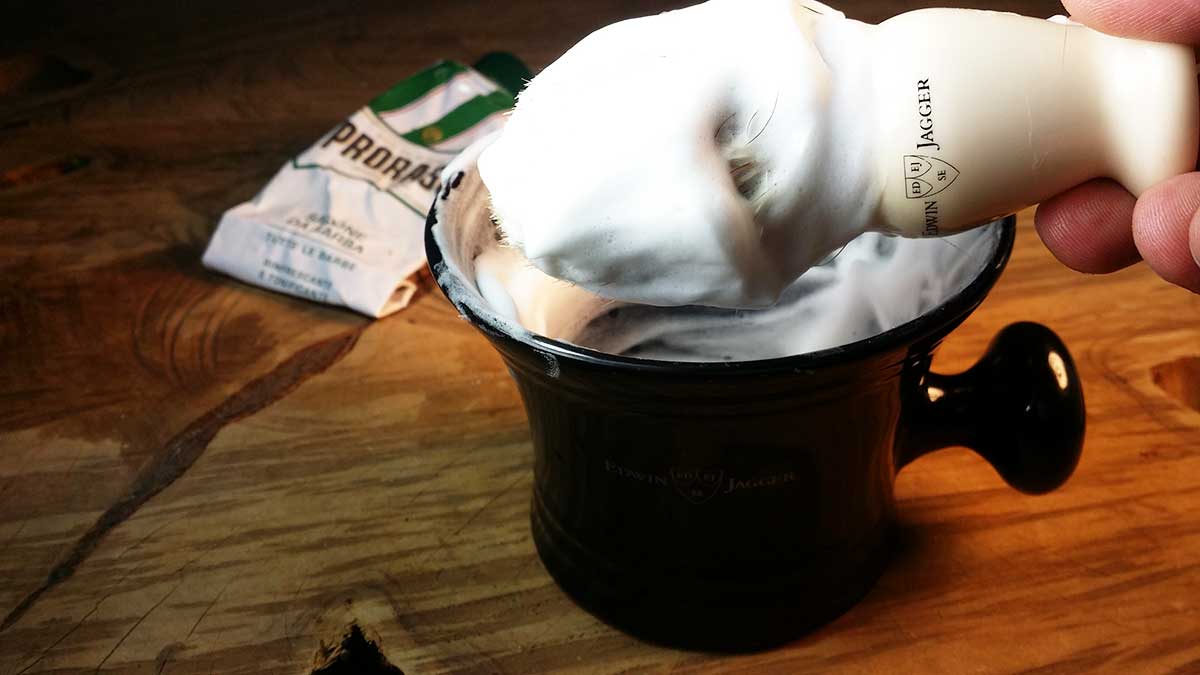 Performance
After applying the Proraso shave cream to my beard, I let it sit for one or 2 minutes In order to let it fully set into my hair.
I'm not sure about all of the science going on, but I picture the eucalyptus and menthol penetrating my facial hairs and softening them up for my shave.
I feel like it does a very good job softening the hairs because even with a dull blade, I feel like the hairs get cut much easier than some of my other soaps and creams.
I also noticed a significant decrease in razor burn when I first came from aerosol cans to this natural Proraso shaving cream.
Overall the performance is amazing especially if combined with a Proraso shaving brush and using warm water to lather up the cream.
After I wash off the last bit of shaving cream, I am not overwhelmed with the scent that remains on my face.
I do get a little tingling sensation and my skin feels very cool.
To me, this feels very cleansing when combined with cold water.
It really helps my skin feels amazing.
To get a perfect result, you should use the Proraso aftershave balm and shaving lotion for men as well.
The Proraso shaving cream ingredients are mild on the skin and effective in helping you achieve a great shave.
Longevity
My first tube of Proraso shaving cream lasted me approximately a year and a half.
I shave on average every other day.
For individuals that shave daily, the tube should last approximately 9 months or so.
You just need to make sure you use the proper amount which is approximately an almond-sized dollop.
That will create enough lather for even the thickest beards.
I always seem to have extra shaving cream leftover after I am done.
Proraso Shaving Cream Review Conclusion
Overall I think this is definitely one of the best shaving creams that I have ever used.
Even though it was the very first shaving cream I used in my wet shaving adventure, I still frequently use it today.
The scent might be overwhelming for some, it did not irritate my skin at all and that is most likely due to the fact that it uses all-natural ingredients and employs DIY shaving cream approach.
I have learned to love the cool tingling sensation that is left on my skin after a shave with the Proraso Eucalyptus and menthol shaving cream.
And although some people think this tube is slightly expensive for shaving cream, it lasts a really really long time and produces fantastic lather and shaves!
Knowing where to buy Proraso shaving cream and reading the Proraso shaving cream review will save you from buying inferior or fake products that will cause damage to your skin.
Overall I think amazon.com is the place to buy Proraso shaving cream because they have the best prices and best customer service.
I hope you guys liked my Proraso shaving cream review!
You may also be interested in checking out our article on top-quality shaving soaps as well as the best straight razors for a smooth clean shave.
Not sure about the right type of razor for your skin?
The comparison between safety razor and straight razor will give you more clarity and serve as a guide to making the best razor choice that suits your skin.
Leave me a comment down below and please share it on social media if it was helpful for you guys!
Now get out there and get some baby but smooth shaves!
Hey! Don't Leave Yet!
If you found this Proraso shaving cream review helpful please be so kind as to share it on Facebook or other social media per the buttons below.
We really would appreciate it as we have worked so hard on this post of Proraso shaving cream review for you.
I have a feeling some of your friends and family will find it helpful as well.
Also, be sure to join the Prim&Prep community!
Not only will you have a chance to WIN your choice of a quality safety razor or beard oil but we will provide you with all kinds of helpful and enlightening male grooming tips and advice directly to your inbox so you don't have to waste your time fiddling on the web to find the right information to look and feel your best.
There is nothing to lose and so much to gain.
SIMPLY SUBSCRIBE BELOW!