Pros
Decent weight and balance
Good grip
Butterfly open
Great Price
It is a mild razor that is good for beginners
Cons
Butterfly open hinges are flimsy
Handle is pretty short for people with big hands
The knob at the bottom loosens while shaving
WEISHI 9306C Review - Is this budget safety razor any good?
Hey there, this is my Weishi Razor Review, to be specific the 9306C model.
If you guys have read my article on the best safety razors, you will have found out that this is one of my top choices from an economical standpoint.
The Weishi 9306c is a very popular razor for people that are just starting out with classic shaving.
It is also a popular razor for people who travel a lot and do not want to carry their more expensive safety razors.
The packaging that my Weishi 9306c came in is quite tacky looking but they include some pretty awesome supplementary items.
Inside the blue box that it came in includes 10 double-edged blades from two different manufacturers (Ying Jili and Dorco) and a small brush to clean your safety razor with.
The brush is extremely helpful especially because the Weishi 9306c is a butterfly open safety razor and it makes it easy to clean the inside of the headpiece.
When you open the box you will find a small mirror on the inside wall of the box.
This makes it convenient to do small touchups and is perfect for traveling with.
The Weishi 9306c is a one-piece twist to open (or butterfly open), copper alloy safety razor.
I got the dark silver edition because I heard good things about it.
Let's jump right into the Weishi razor review to find out more!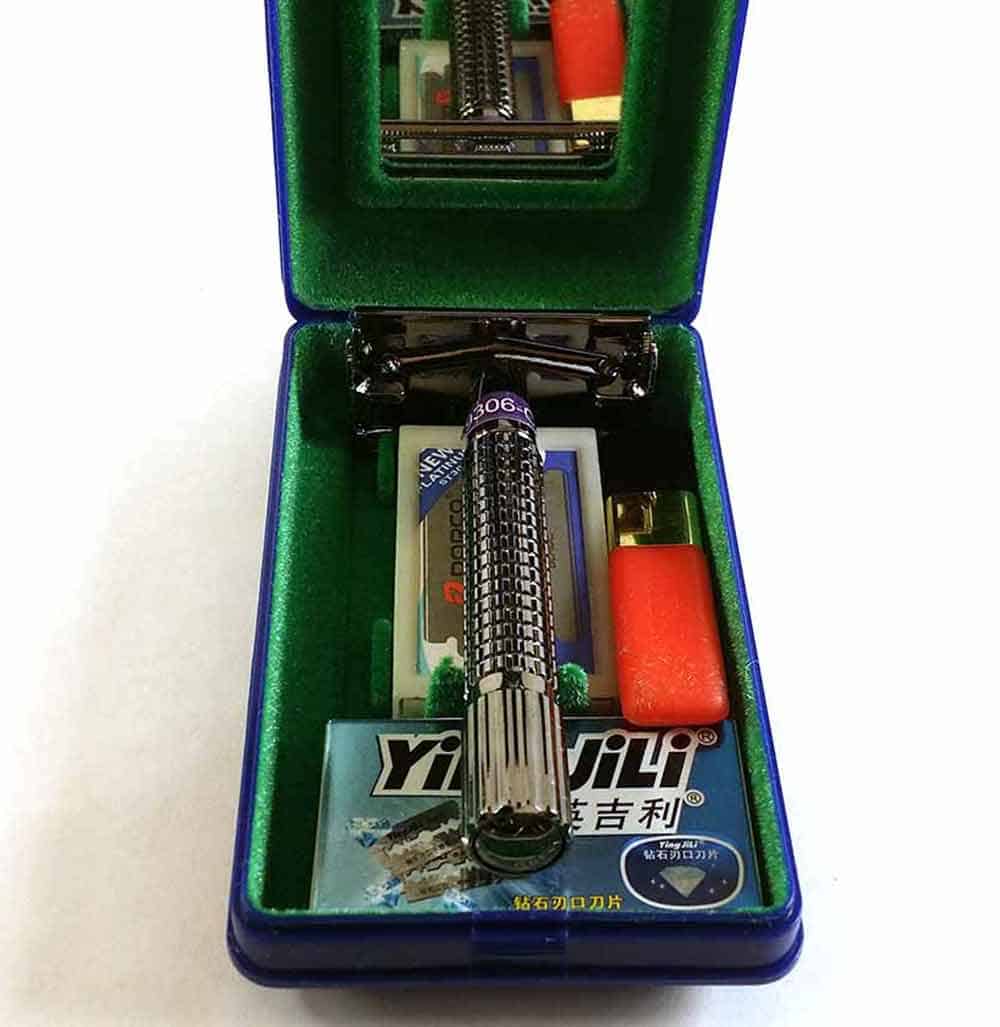 Weishi Razor Review (9306C)
Weight and Balance
The Weishi 9306c weighs 2.25 ounces.
Since most butterfly open safety razors tend to be on the light side, I was expecting the Weishi 9306c to be the same.
To my surprise, the handle has a good amount of weight to it.
The balance point is in a good position for changing from one hand position to another.
You can also see from this Weishi razor review that I had no trouble maneuvering the Weishi 9306c while shaving.
Grip
The Weishi 9306c has deep vertical and horizontal grooves that create vertical rectangles along with the majority of the handle.
These rectangles create a very good grip while moving your hand vertical or horizontal along the handle.
The twist to open knob at the bottom has vertical grooves that protrude out from the handle.
This adds additional grip as well as notifying you where the end of the handle is, as indicated in the Weishi razor review.
Overall this Weishi safety razor has a very good grip and it would be hard to imagine it slipping out of your hands while shaving.
Length
The Weishi 9306c measures 3.5 inches in length from head to toe.
This is a good length for most individuals based on hand size alone.
For me, it is just a little too short.
The knob at the bottom takes up too much of the handle length overall.
While shaving I ended up loosening the "twist to open" mechanism and therefore the blade as well.
It is a pain to have to keep on tightening the knob at the bottom during my shave.
This might not be a problem for people with smaller hands.
Head Piece and Aggressiveness
In my Weishi razor review, the headpiece seems to be well constructed.
Most butterfly open safety razors are prone to breaking due to the fact that they have multiple moving parts.
The opening and closing on the Weishi 9306c feel very smooth and if you take care of it, it should last for a while.
Compared to other butterfly open safety razors such as the Parker 99R that I've talked about on my website, this Weishi adjustable razor is pretty mild.
In this Weishi razor review, I give it a rating of 4/10 on my aggressiveness scale.
We can conclude this section of the Weishi razor review by saying, this is a decent starting aggressiveness for any beginner.
It is pretty difficult to cut yourself with it even while using sharper blades such as Feather.
Blade Replacement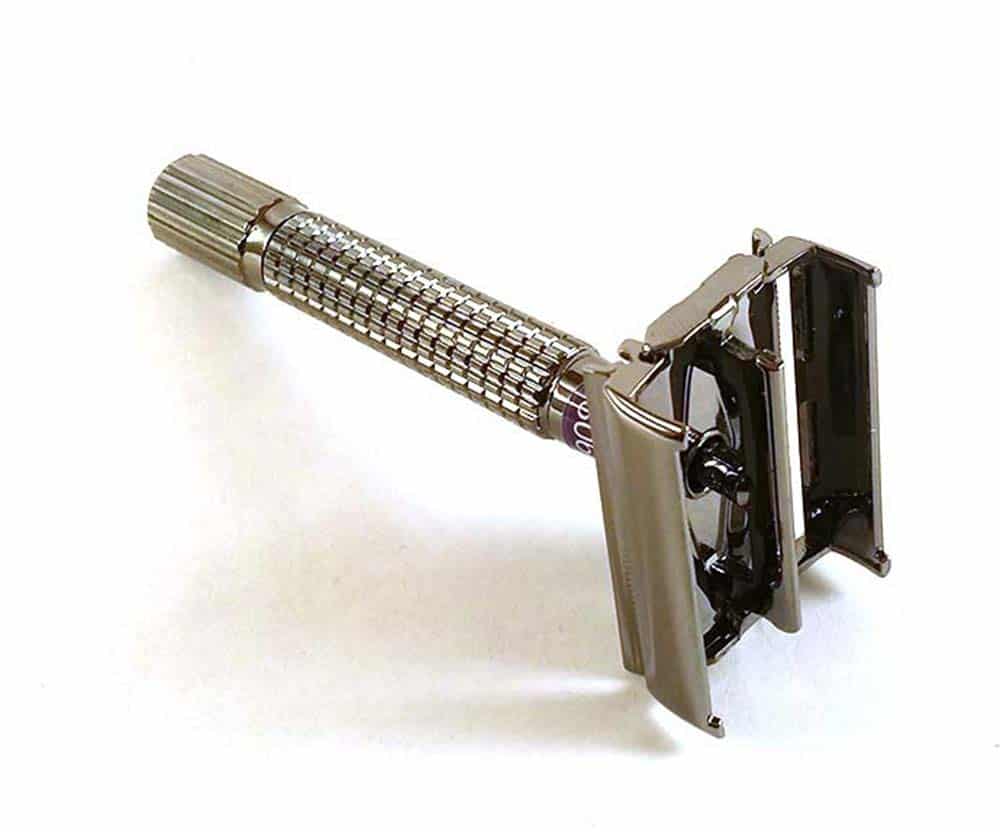 Just like any other twist to open a safety razor, blade replacement is extremely easy.
As long as the twist to open mechanism and knob don't get corroded by soap scum, you should have no problem replacing blades in the future.
Definitely, the safest way to replace blades.
Be sure to check out our article on the best safety razor blades on the market today!
Conclusion – Weishi Razor Review
Get the Weishi Safety Razor below on Amazon
See the consensus of hundreds of other user reviews on Amazon
Overall from this Weishi razor review, I think that the Weishi 9306c is one of the best safety razors at its price point.
It would be a good safety razor for any beginner because it is not that aggressive, so you can avoid getting cut up while learning proper technique.
It is also a good choice for individuals with sensitive skin.
From the previous sections of this Weishi razor review, you can see I really like the weight and balance of this safety razor but for me, I wish it had a slightly longer handle.
This is going to be my go-to travel double edge safety razor because of the cool box that it comes in.
I have dropped the box a couple of times and it seems durable enough to take a beating while on the road.
We will see how long the butterfly open mechanism holds up but I think with proper care it should last a while.
Definitely check this guy from Weishi razor company out.
For approximately $15 it is hard to go wrong.
If you are curious about other safety razors do not forget to check out my article on the best safety razors!
You should also check out our article on the best straight razors and how they differ from safety razors.
Did my Weishi razor review (9306C) help you along?
Leave me a comment down below so we can talk about it some more!
Frequently Asked Questions About Weishi Razor Review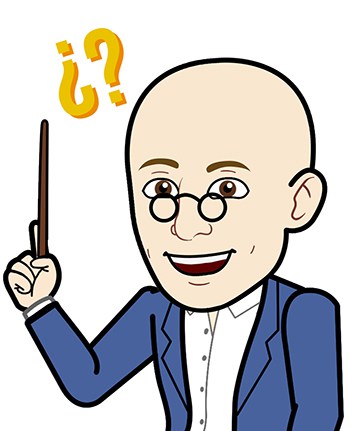 1. How Do You Use Weishi Razor?
Shake the handle gently to assist the blade seat.
Maintain a level razor head by keeping the blade centered from end to end.
Close the blade chamber by twisting the knob at the bottom of the razor handle until it is completely closed and the blade is secure.
2. Is Shaving With a Safety Razor Better?
When compared to the cartridge or electric razors, shaving with a safety razor causes less skin irritation, shave bumps, and ingrown hairs.
The fundamental reason is that when using a safety razor, just one blade is in contact with your skin at any given moment.
3. How Long Do Safety Razor Blades Last?
To give you an idea, most safety razor blades survive about 5 shaves on average.
While you may prefer the financial savings of traditional wet shaving, don't skimp on the quality of your shave!
It's preferable to change your razor blade before you need it after a terrible shave.
If you found this article on the Weishi razor review helpful please be so kind as to share it on Facebook or other social media per the buttons below.
We really would appreciate it as we have worked so hard on this post for you.
I have a feeling some of your friends and family will find it helpful as well.
Also, be sure to join the Prim&Prep community!
Not only will you have a chance to WIN your choice of a quality safety razor or beard oil but we will provide you with all kinds of helpful and enlightening male grooming tips and advice directly to your inbox so you don't have to waste your time fiddling on the web to find the right information to look and feel your best.
There is nothing to lose and so much to gain.
SIMPLY SUBSCRIBE BELOW!