Pros
Fantastic grip
Long handle and good weight
Can handle thick beards
Great Price point
Cons
Can be a little aggressive for beginners
Drips water from the headpiece
Parker 24C open comb safety razor review!
The parker 24C is the third safety razor that I have purchased from an Indian manufacturer.
This Parker double edge razor was recommended to me by a close friend that has been talking up the last few months.
This is a three-piece open comb safety razor with a brass frame.
Up to this point I have had about 10 shaves with the safety razor and have a lot to say about it.
Let's get right into the review!
If you are interested in my favorite safety razors of all time check out my article here!
Also if you want a good blade and a great brush to go along with your razor check out those links!
Enjoy my Parker 24c Review!
Features of Parker 24C Safety Razor
There are a number of features of the Parker 24C Open Comb Razor.
These are:
Weight and Balance
Grip
Length
Aggressiveness
Blade Replacement
Weight and Balance
The 24C weighs a hefty 3.3 ounces.
The handle is where the majority of the weight sits on this safety razor.
I have to say that it feels extremely durable in my hands.
Overall this safety razor is very well balanced.
It gets most of its weight from the brass frame that it uses.
Because this double open comb razor is so heavy you need to apply very little pressure to your skin while shaving.
You can let the weight of the razor do all the work for you, which is great.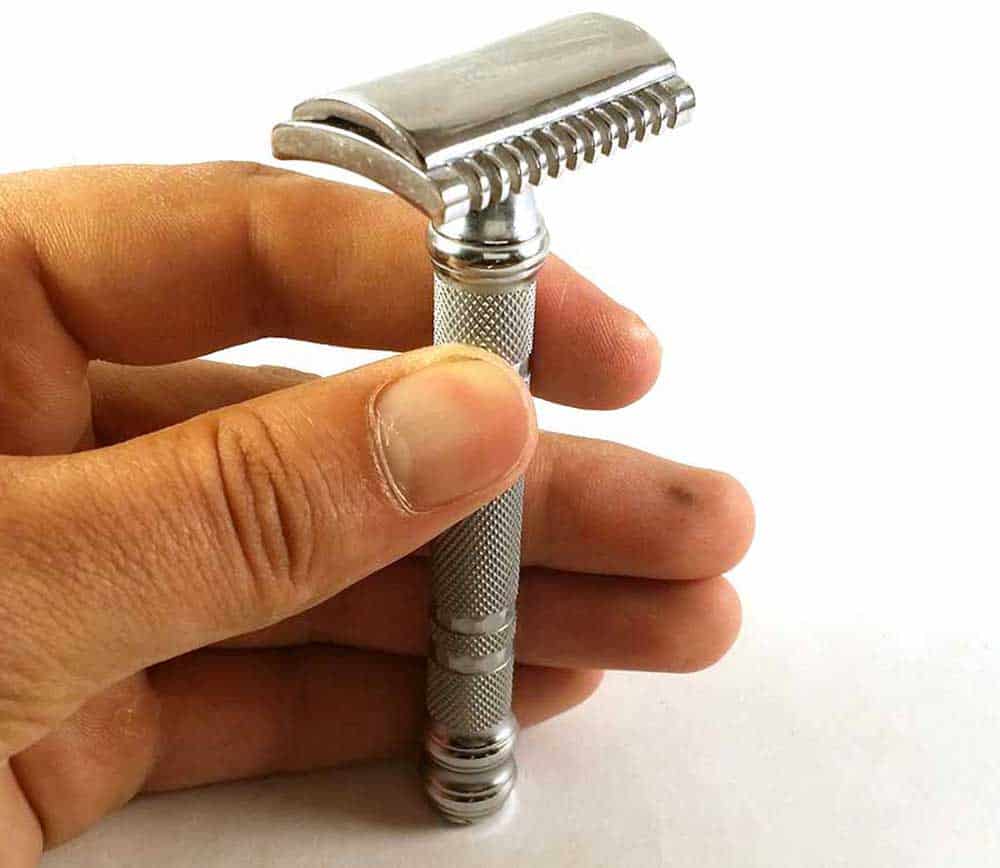 Grip
When it comes to open comb safety razors and the grip of the 24C is one of the strongest selling points for this safety razor.
It just might have the best grip of any safety razor that I have come across.
If you have read any of my other safety razor reviews you will find out that I'm a huge fan of gritty metal on the handle.
The majority of the handle is made with this gritty metal besides four smooth grooves.
There are two of these grooves at the top and two at the bottom.
A kind of reminds me of a barbell at the gym.
And just like the barbells at the gym, these grooves are a great reminder of where your hand positioning is on the handle.
You can move your hand based on feel instead of needing to see.
Overall the grip and handle design are on point on this safety razor!
Length
The Parker 24C measures in at 4.0 inches long.
I am a big fan of safety razors that have longer handles because my hands are quite large.
So this safety razor has been perfect for me.
I also tested this safety razor out with a shorter Merkur handle to see how shaved.
I have a much better shave from the long handle provided by Parker than I did with the short handle.
I think it has a lot to do with the weight of the handle and the balance it was designed for.
Aggressiveness
The level of aggressiveness on the parker 24C is very unique.
The open comb head makes the shave much more aggressive because there is much less pressure taken by the guard bar and more pressure put on the blade.
In terms of closed comb vs open comb aggressiveness, open comb razors are just a little bit more aggressive.
On the other hand, there is not that much space between the blade and the guard bar which makes it less aggressive than it could be.
Overall I would rate this safety razor a 6-7 on the aggressive scale.
It is a very good safety razor for people that have thick beards or stubble that is tough to work through with less aggressive razors.
You can get an extremely close shave with this safety razor but it does require a good amount of concentration because of the open comb.
Blade replacement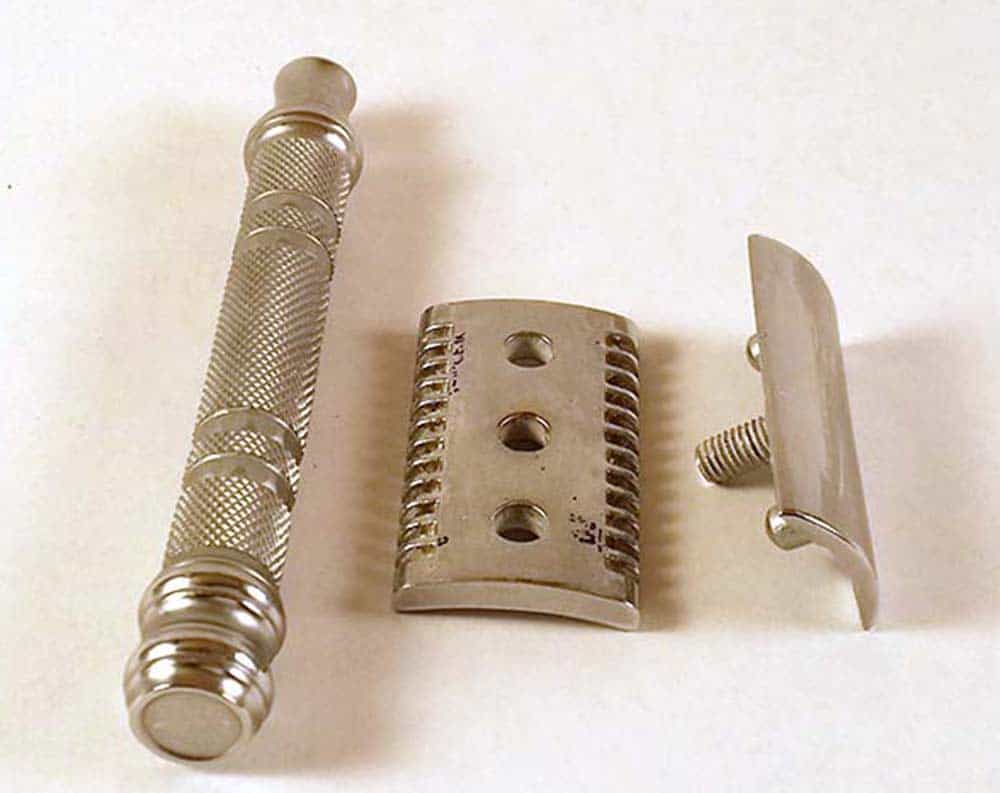 The Parker 24C is a three-piece safety razor.
And just like all three-piece safety razors, it is pretty easy to replace the blade.
The two pieces of the head line up extremely well.
Just like any three-piece safety razor you need to clean the head often so that soap scum doesn't cause the blades to stick to the headpiece.
But overall it is a breeze as long as you're careful.
Be sure to check out our article on the best safety razor blades on the market today!
Conclusion – Parker 24c Review
Overall the Parker 24C is a very well-designed safety razor.
I really like how hefty it feels in my hands.
The grip on the handle feels amazing and makes it virtually impossible to slip out of your hands while shaving.
For people that are looking for a more aggressive safety razor, this would be a great option.
It is not the most aggressive safety razor on the market but can still cut through a thick stubble.
The open comb headpiece makes for an extremely close shave.
One of the biggest problems I have with the safety razor is that it constantly drips water from the headpiece.
Besides that, it is a fantastic product, especially at the price point of $28!
Over the last 10 years or so Parker has really made a name for themselves as a solid manufacturer of safety razors!
I wouldn't readily say that this is the best open comb safety razor you can find in the market, but it does a pretty decent job.
Check the current price here on Amazon
Check out all of the other amazing customer reviews here to see what other people have to say.
If you would like to read some other parker safety razor reviews, I suggest that you check out my Parker 92R review and my Parker 99R review!
And also check out our infographic on straight razors vs safety razors as well as our top straight razors.
Happy shaving!
Frequently Asked Questions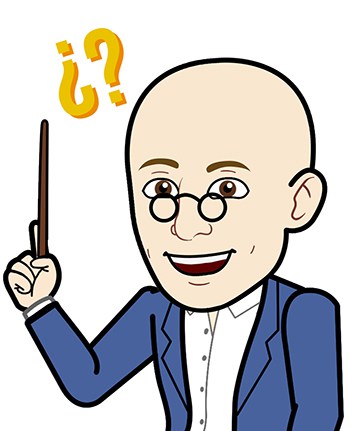 1. Should I Shave With An Open Comb Razor?
Open combs are designed to guide stubble against the blade, allowing you to cut through longer or thicker hair more easily.
If you shave frequently, we recommend a closed comb razor, though an open comb razor should provide a similarly close shave.
2. What Is The Difference Between Open Comb And Closed Comb Safety Razor?
The closed comb unlike the open comb razor head has no straight bar left to touch the shaver's face.
This leaves more blades exposed in an open comb razor.
3. Is It True That Open Comb Razors Are More Aggressive?
An open comb safety razor is slightly more aggressive than a closed comb razor.
Although the open comb head's teeth expose more razor blades, they also allow much more shaving lather to enter the cutting area to lubricate and protect your skin.
4. Can You Shave Every Day With A Safety Razor?
YES!
It all comes down to the razor's quality.
If a razor can give you a good shave, then, you can decide to shave with it every day.
If you found this article helpful please be so kind as to share it on Facebook or other social media per the buttons below.
We really would appreciate it as we have worked so hard on this post for you.
I have a feeling some of your friends and family will find it helpful as well.
Also, be sure to join the Prim&Prep community!
Not only will you have a chance to WIN your choice of a quality safety razor or beard oil but we will provide you with all kinds of helpful and enlightening male grooming tips and advice directly to your inbox so you don't have to waste your time fiddling on the web to find the right information to look and feel your best.
There is nothing to lose and so much to gain.
SIMPLY SUBSCRIBE BELOW!