Pros
Easy TTO DE razor
Very mild for a butterfly open Parker
Cons
Not the best grip
The headpiece opens during shave due to the TTO knob placement
Hello shavers, welcome to another PrimandPrep safety razor review article.
This particular article will be a Parker Butterfly Razor Review.
Lately, I have really been enjoying shaving with my wide variety of Parker safety razors.
For some reason approximately 10 years ago, this manufacturer of Parker razors was getting a bad rap for their safety razors, but in all honesty, I think they make a top-quality product that is worthy of competing with any of the top name brands out there.
They also have a variety of other great products as well.
They have made our list for the best safety razor, best shaving brushes, and best shaving bowl.
This particular Parker safety razor is a twist-to-open (otherwise known as parker butterfly razor review) safety razor that is chrome plated.
Let's jump right into my Parker Butterfly Razor Review so that you could see what I have discovered about it.
Review of Parker Butterfly Razor
The Features of the Parker Butterfly Safety Razor to be reviewed are:
Weight and Balance
Grip
Length
Aggressiveness
Blade Replacement
Weight and Balance
The Parker Butterfly Razor Review weighs in at 2.5 ounces.
This is slightly lighter than the majority of my other Parker safety razors (Parker Butterfly razor).
I noticed that the safety razor is slightly top-heavy which is not really a problem for me because I can still find a good place to balance the butterfly safety razor due to my particular hand size.
I could see people having slight problems because the grip for the safety razor kind of dictates where you should hold the razor.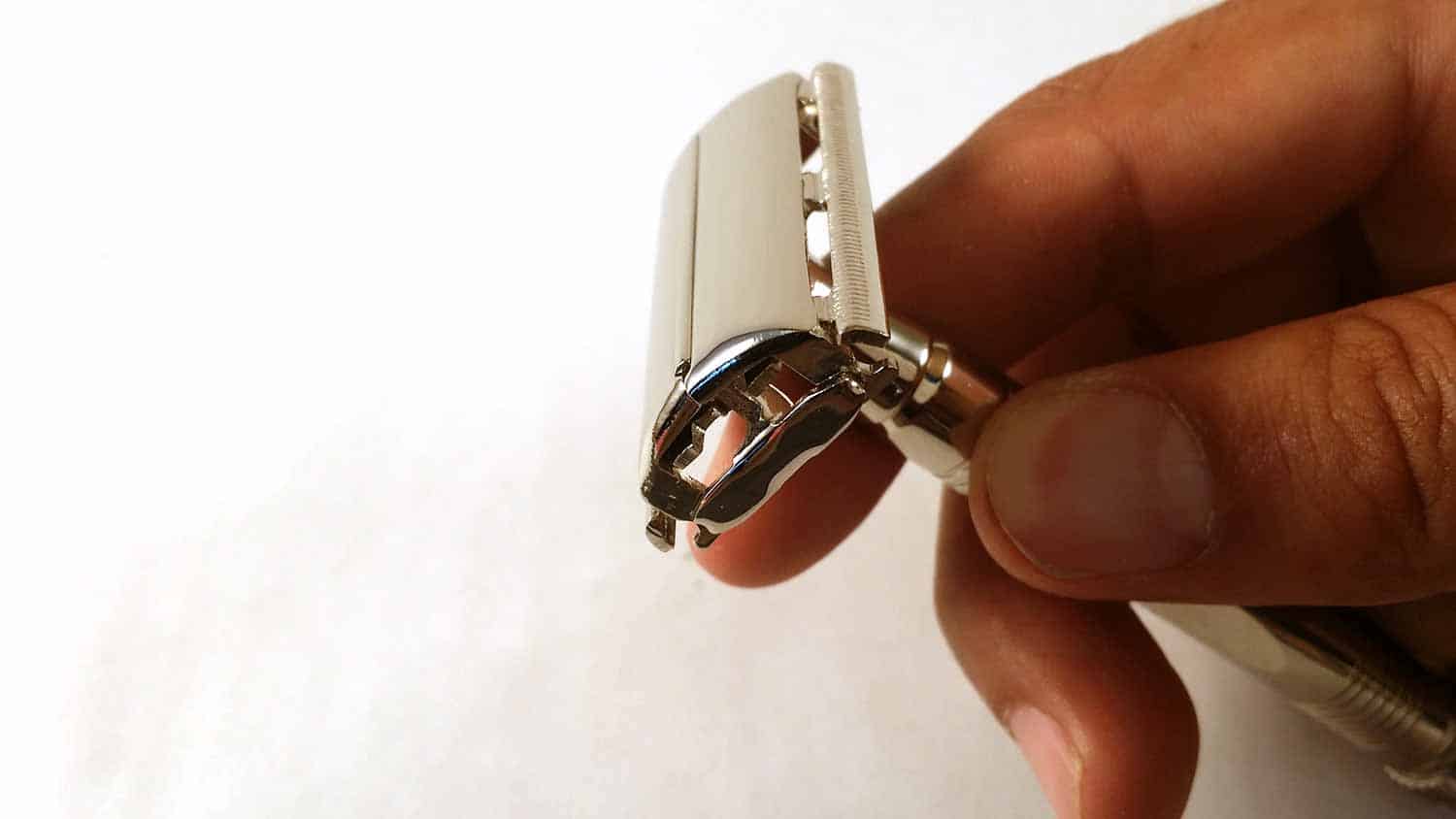 Grip
This is probably one of the biggest things that the parker butterfly razors are lacking.
The handle can be broken down into two separate parts.
The bottom two-thirds of the handle is used as the knob to unscrew the butterfly hinge in the headpiece.
The upper one-third of the handle is solid and does not move.
On both the top part of the handle as well as the bottom there are several horizontal grooves.
While these grooves do provide some grip, I feel that they should have made a little bit deeper or made more grooves in order to improve the grip overall.
You should not have too much trouble as long as you're careful with the Parker shaving razor 90, but if you have very wet and soapy hands, keep an eye out.
Length
The Parker 90R measures 4.25 inches long.
This is a pretty standard length put out by this Indian manufacturer.
I very rarely see Parker safety razors over 4.25 inches or under 3.75 inches.
Any larger people with small hands would have a difficult time.
And any smaller, some people with large hands might find it uncomfortable.
I think they did a great job because this length range is perfect for the majority of individuals.
Aggressiveness
In my opinion, The Parker Butterfly razor is one of the least aggressive butterfly open safety razors that is put out by Parker.
The parker butterfly razor with its amazing values is a first choice shaving stick for the average man.
I would give it a 5/10 on my aggressiveness scale. Most twists to open Parker's are above a six on my rating scale.
Blade Replacement
Just like any other twist to open or butterfly open a safety razor, removing old blades and putting new ones in is a breeze.
The opening mechanism is very smooth while closing as well as opening the headpiece.
The only problem I have is that while you are shaving, it is easy to accidentally loosen the headpiece.
This is because two-thirds of the handle act as the knob.
Half of your hand is resting on the immovable upper part of the handle, while the other is on the knob.
This creates unwanted loosening which you need to correct mid-shave before the blade gets too loose.
This can be a hassle especially if your hands are wet on this slippery grip.
Just like its counterparts, the parker double edge razor is effective and easy to handle to give you a stimulating shaving experience.
Be sure to check out our article on the best safety razor blades on the market today!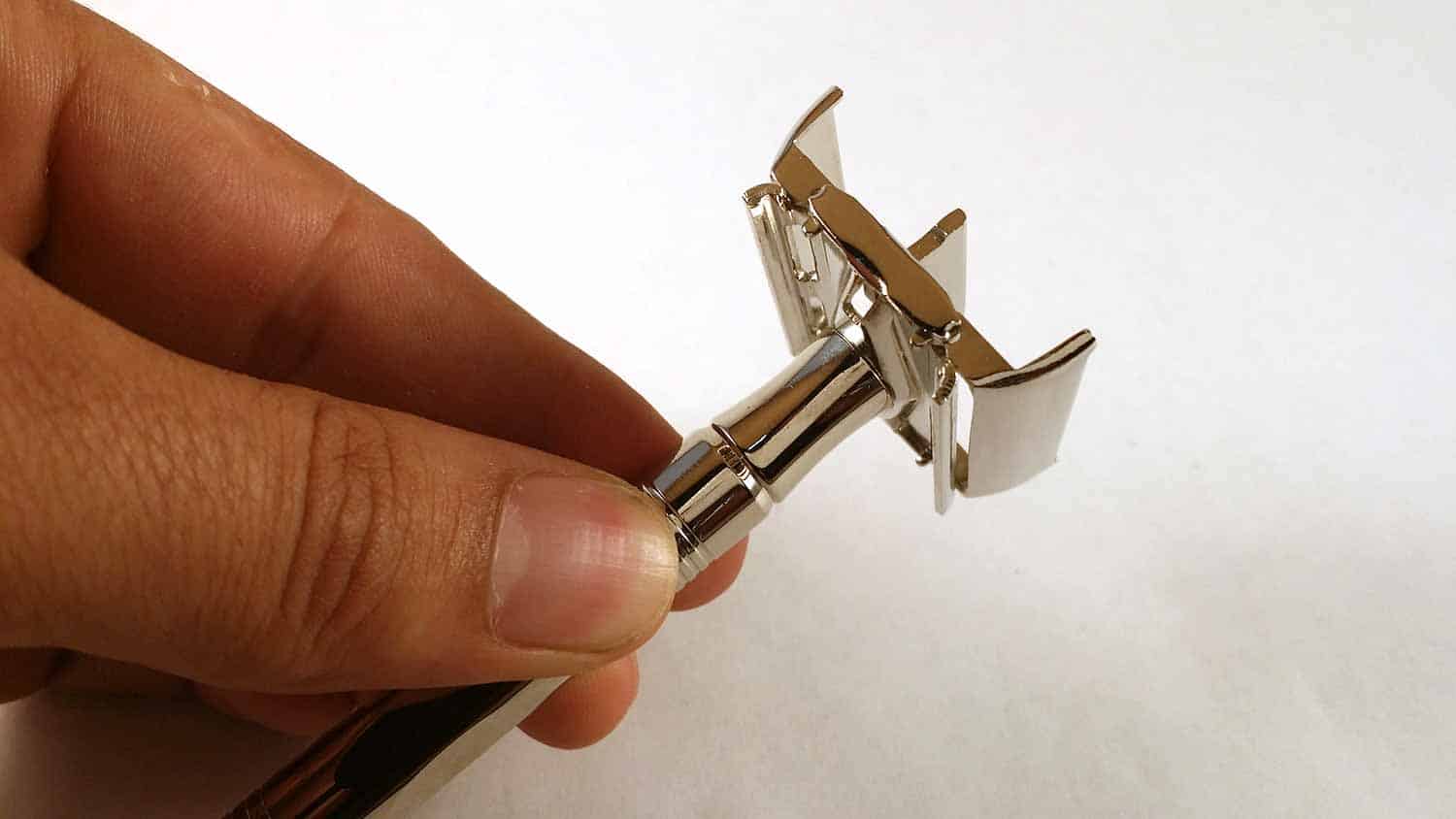 Conclusion – Parker 90R Safety Razor Review
The Parker 90R is a very well-constructed butterfly-opening safety razor like the majority of the Parker products.
It is a little bit lighter than I like for a safety razor but it has a good length and will provide a close shave.
The downfalls are that the grip is not the best and the headpiece can get loose as you are shaving if you are not careful.
It is a mildly aggressive safety razor that could be used by a beginner with very little practice.
Let me know what you guys thought of my Parker 90R review!
Get it here on Amazon
Don't just take our word for it, check out all the other glowing user reviews below
If it was helpful to you please share it with your friends on social media using one of the buttons on the side.
Don't forget the importance of having a quality shaving soap or shaving cream to achieve that desired lather and quality baby butt smooth shave.
If you are a wet shaving enthusiast like me, you may also want to try out one of our finest selections of straight razors for the perfect clean shave.
Otherwise have a great day and keep on shaving!
FAQs About Parker Butterfly Razor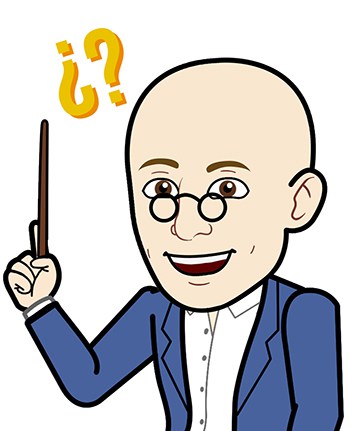 1. Is It Better To Shave With A Safety Razor?
When compared to the cartridge or electric razors, shaving with a safety razor lowers skin irritation, shave bumps, and ingrown hairs.
The fundamental reason for this is that when you use a safety razor, you only have one blade in contact with your skin at any given moment.
2. What Is Wet Shaving, Exactly?
Wet shaving is the process of removing hair from the skin while it is still wet.
Warm water (showering is usually a good idea before shaving to soften your skin and facial hair) or shaving foam or gel could be on your skin.
3. Is It A Good Idea To Use A Butterfly Safety Razor?
4.0 stars out of 5.0!
I would recommend this razor, but only if you buy the blades separately because the baldes aren't up there!
The razor itself is of decent quality for the price as compared to other safety razors that cost much more.
The butterfly open mechanism appeals to me.
4. Is It True That Parker Razors Are Aggressive?
The aggressiveness of Parker Razors is relative depending on the type.
The Parker 99R is unlike most other safety razors in that it is a large, heavy, and aggressive safety razor.
If you found this article Parker Butterfly Razor Review helpful please be so kind as to share it on Facebook or other social media per the buttons below.
We really would appreciate it as we have worked so hard on this post for you.
I have a feeling some of your friends and family will find Parker Butterfly Razor Review helpful as well.
Also, be sure to join the Prim&Prep community!
Not only will you have a chance to WIN your choice of a quality safety razor or beard oil but we will provide you with all kinds of helpful and enlightening male grooming tips and advice directly to your inbox so you don't have to waste your time fiddling on the web to find the right information to look and feel your best. There is nothing to lose and so much to gain.
SIMPLY SUBSCRIBE BELOW!