Pros
Classic razor with solid construction
Great Grip
I like the look
Cons
Extremely aggressive and not good for a beginner
Hey all of you male groomers! Welcome to another PrimandPrep safety razor review.
In this article, I will be doing a Parker 91R review.
This Indian manufacturer has been coming up a lot lately and I feel like they have really improved in the quality of their safety razors over the last 10 years or so.
They make all types of safety razors from three-piece to two-piece as well as many butterfly open safety razors.
Two of their razors actually made P&P's ultimate best safety razor list as well our definitive list of the best shaving brushes and best shaving bowls.
The Parker 91R is a three-piece safety razor that has a brass frame and nickel/chrome finish to it.
Let's jump right into the review so that you can learn whether or not it is worth your money to purchase this particular Parker safety razor.
Weight and Balance
The Parker 91R weighs in at exactly 3.0 ounces.
This is approximately the weight that I would classify as a relatively heavyweight safety razor compared to non-heavy razors.
If you have read any of my previous reviews, you will know that I prefer heavy razors because it is easier to let the razor do the work for you, as opposed to using your muscles to pull the blade through your hairs.
I feel that the balance of the safety razor is great.
The balance point is right at the top of the grip on the handle.
Overall, switching from one hand position to the next felt very smooth and I have been enjoying my shaves with this parker heavyweight razor very much since I got it.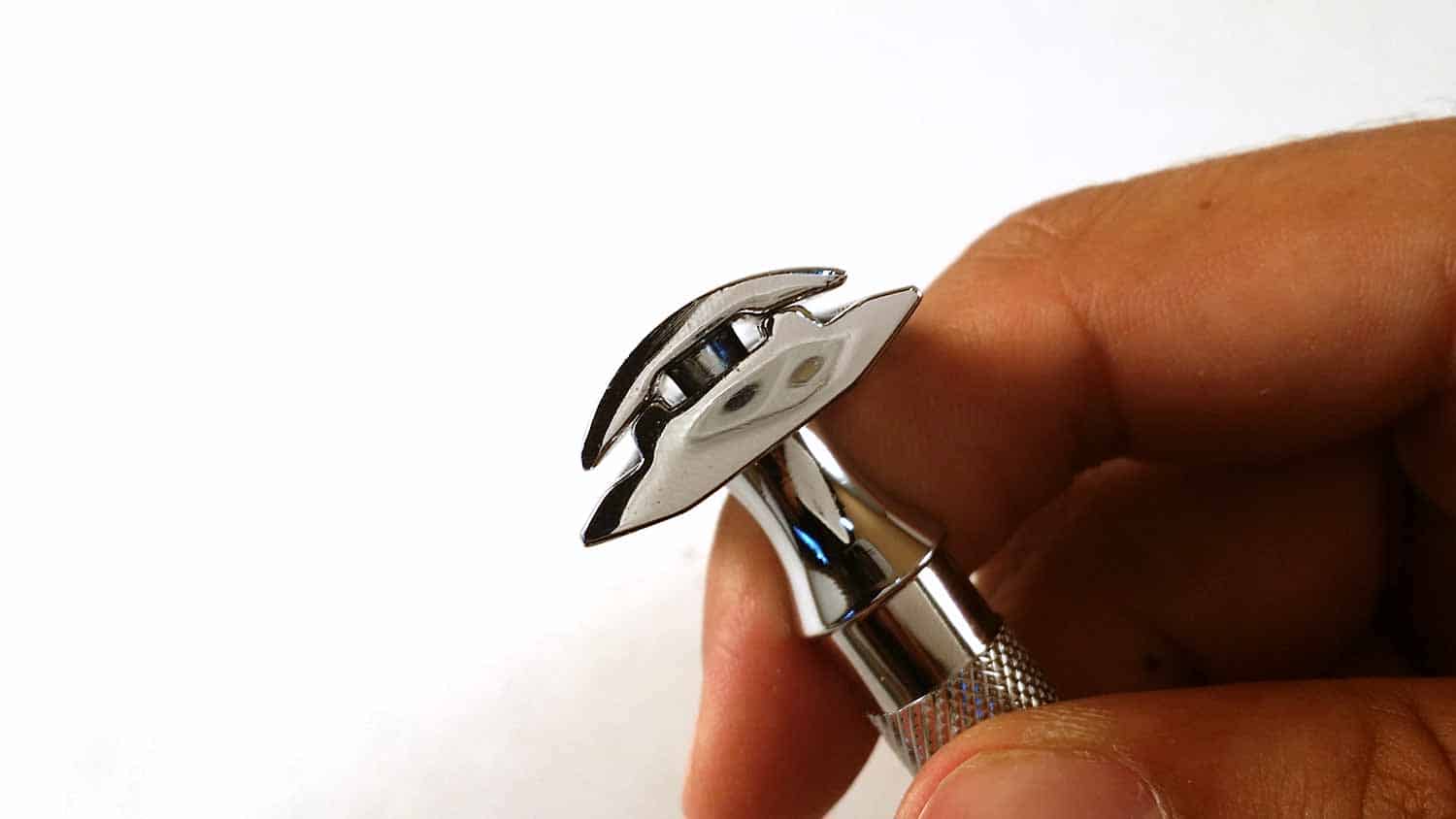 Grip
The type of grip that the Parker 91R has is one of my preferred types of grips.
Similar to a lot of my favorite Merkur safety razors, the 91R has a gritty metal grip to it.
The bottom of the handle protrudes a little bit further out compared to the majority of the handle and contains two strips of gritty metal.
The gritty metal at the bottom is a little bit thicker compared to the gritty metal on the majority of the handle.
Either way, you should have no worries about this safety razor slipping out of your hands while you are shaving with it.
Length
It measures in at exactly 4.0 inches.
As I have talked about in other safety razor reviews, this seems like a very standard length for the Parker safety razors that I own.
They usually don't get shorter than 3.75 inches or longer than 4.25 inches.
I think this is a great length for the majority of hand sizes.
It is a classic safety razor that will help fulfill your shaving needs.
Aggressiveness
This is definitely one of the more aggressive safety razors. Up to this point, the most aggressive safety razors from Parker have been their butterfly open safety razors.
This three-piece safety razor has an extremely large blade gap. It looks kind of scary when you are looking at it.
I was definitely intimidated, and I have lots of experience shaving with safety razors.
It has a larger blade gap than my Gillette super adjustable safety razor on its most aggressive setting! I am rating this a 10 out of 10 on my aggressiveness scale.
I do not recommend any beginner start out with this safety razor.
That being said, when I finally shaved with it, it was not as intense as I was assuming from looking at the blade gap.
This would be perfect for advanced wet shavers that have very thick and coarse facial hair because it requires very little cleaning in between passes.
This razor rating gives it a high standing among other best safety razors.
Blade Replacement
Just like any other three-piece safety razor, it is very easy to take apart the three pieces and replace the blade but you need to be thoughtful and pay attention to what you're doing.
The three pieces came apart fairly easy and the blade sits nice and snug in the headpiece with no movement that I could notice.
Be sure to check out our article on the best safety razor blades on the market today!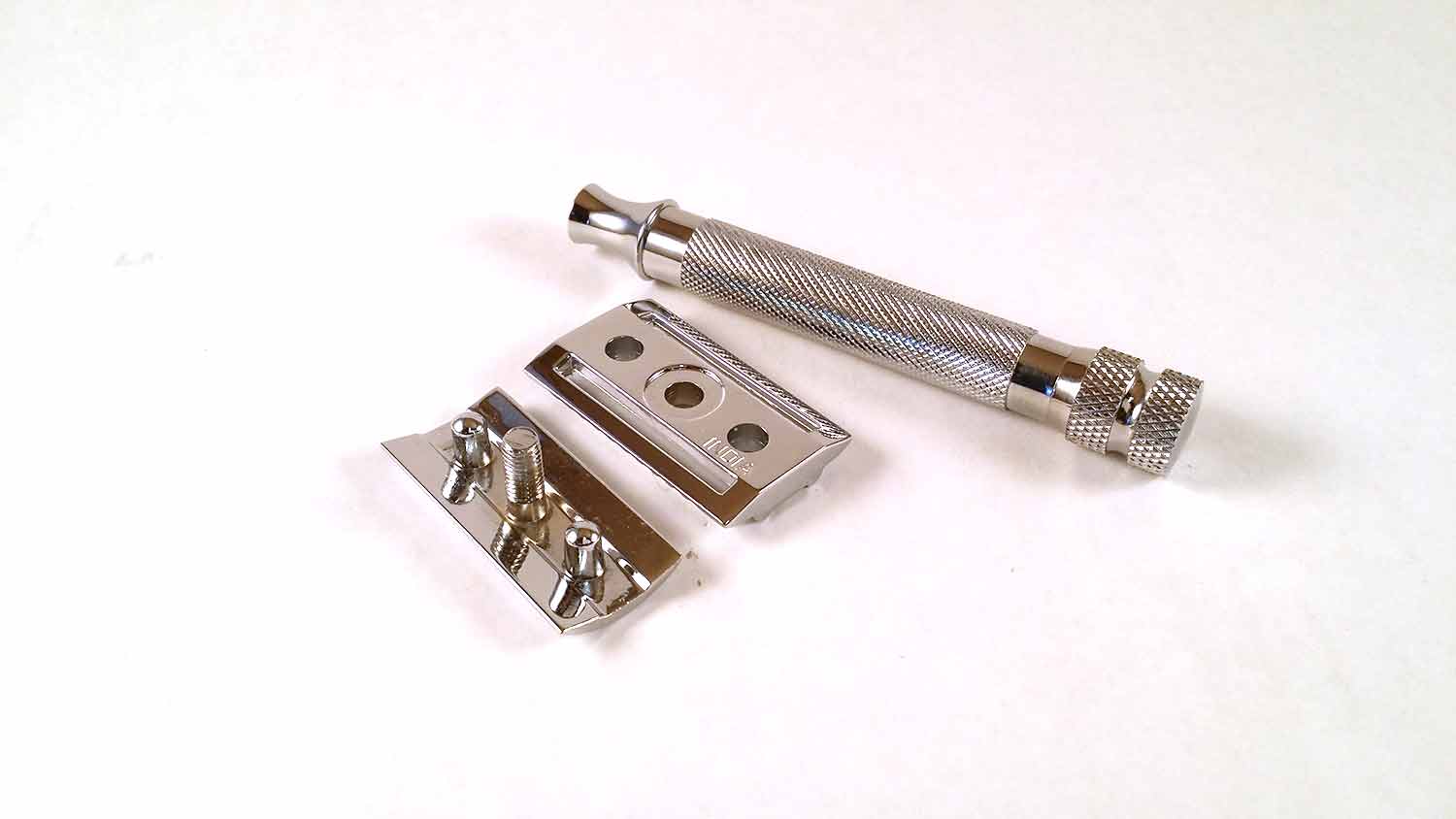 Parker 91R Review Conclusion
Overall I really like this three-piece safety razor from Parker.
This Parker is definitely crafted beautifully.
Since it is so aggressive, I cannot recommend it to a beginning wet shaver but I have been getting very close shaves with it.
It is not a safety razor for beginners.
I do not recommend using extremely sharp blades such as feathers.
Use something a little bit less intense and you will get some great shaves out of it.
It is currently priced around $29 on Amazon.com.
I think Parker's provide extremely well-constructed safety razors that shave well for a very affordable price.
That is why I have been doing more reviews of their safety razors.
I hope you guys liked my Parker 91R review.
Leave a comment down below and please share this on social media if it was helpful for you.
Ever tried straight razor shaving?
Check out this infographic to find out the differences between straight and safety razors.
Don't forget the importance of having a quality shaving soap or one of the best shaving creams for men to achieve that desired lather and quality baby butt smooth shave.
Now get out there and start getting some baby butt smooth shaves!
Hey! Don't Leave Yet!
If you found this article helpful please be so kind as to share it on Facebook or other social media per the buttons below.
We really would appreciate it as we have worked so hard on this post for you.
I have a feeling some of your friends and family will find it helpful as well.
Also, be sure to join the Prim&Prep community!
Not only will you have a chance to WIN your choice of a quality safety razor or beard oil but we will provide you with all kinds of helpful and enlightening male grooming tips and advice directly to your inbox so you don't have to waste your time fiddling on the web to find the right information to look and feel your best.
There is nothing to lose and so much to gain.
SIMPLY SUBSCRIBE BELOW!