Pros
Inexpensive
Stainless steel won't rust
Good for beginners
Cons
Looks a bit cheap
Not so durable
Parker SR1 review - check out this great budget safety razor!
Shavettes like the Parker SR1 review razor are one of the odder shaving tools out there—part straight razor, but with a disposable blade (straight razor vs shavette).
Where are parker razors made?
Parker shavettes are made in India.
While razors like the Parker straight razors are typically the shaver of choice amongst barbers offering a straight shave—due to rules that prohibit using the same razor on multiple customers.
There is nonetheless quite a divided opinion amongst shaving enthusiasts about their actual use of Parker razor blades.
However, in my humble opinion, the Parker SR1 barber straight razors definitely have their place in the shaving world.
This is because they offer a cheap inexpensive way to learn straight razor shaving while also eliminating the need for honing and stropping.
They also make a great travel razor, and some people even claim they offer a superior shave when used with the right razor blades.
So, the question then boils down to which shavette is the best?
Parker shavette?
Well, that's why today I'll be presenting my Parker SR1 review so you can see how it stacks up to its competitors.
Durability – Parker SR1 Review
The Parker SR1 styles itself as a straight edge razor (shavette is technically the name used for the DOVO model).
You'll definitely come across parker SR1 review stainless steel straight-edge razor in most (if not all) shavette reviews and straight-edge razor reviews.
It is entirely constructed from lightweight stainless steel, which means you can easily wash it off and not have to worry about it rusting, as long as you dry it properly (how to clean a shavette).
However, the parker SR1 straight razor feels maybe a bit too lightweight and flimsy—especially the scales, which are a bit too thin in my opinion.
The other end of the razor is made of two thin pieces of metal sandwiched together to hold the razor blade and connected by a pin, which also seems a bit delicate to me.
While it should definitely last for a few years, it is still not nearly as durable or long-lasting as a traditional straight razor and even some other shavettes (Feather Shavette) —although it is definitely more durable than the original DOVO Shavette which is mostly made of plastic.

Comfort – Parker SR1 Review
Although it feels incredibly light compared to many other razors, Parker has still managed to make the razor feel quite nicely balanced.
The SR1 fits comfortably in the hand and generally feels quite nice to shave with.
Still, the lightness of it definitely feels a bit strange at first.
Ease of Use – Parker SR1 Review
As far as how easy the actual shave is, that is mostly down to your skill.
That being said, many beginners do find it much easier to learn with than a traditional straight razor, although you should still be expected to bleed for at least the first few times.
Still, Parker has made it a least a bit more difficult to seriously injure yourself with the SR1 by including a snap lock on the spine that securely holds the blade in place so it doesn't slip and slice you.
Changing the blades is also a fairly simple process that takes just a few seconds (although still more time than with the Feather SS).
Simply flip up the lock on the spine, pull the two sides apart to release, align the new blade on the two pins and close it back up.
The Parker SR1 can fit either a standard single edge razor blade or half of a double edge blade, which is super simple to snap in half (although I'd recommend wrapping it in a towel to prevent getting sliced).
Appearance – Parker SR1 Review
When writing this Parker SR1 review, I had conflicting opinions about how to classify its appearance – I also noticed the same with all other parker straight razor reviews I saw on the internet.
On the one hand, the shiny stainless steel does have quite a nice appeal to it and really does look cool.
However, at the end of the day, it does look quite cheap—especially compared to the Feather SS or any traditional straight razor.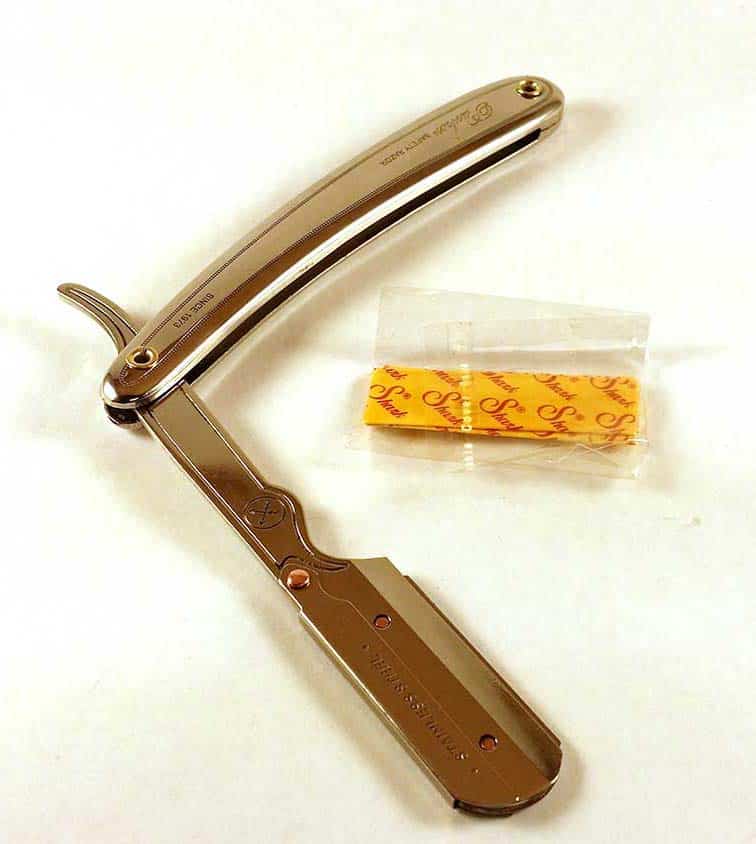 Price – Parker SR1 Review
Ok, so far in this Parker SR1 review all I've done is complain that it looks and feels a bit cheap.
Well, guess what?
It is!
In fact, it's not just cheap, but I would even say dirt cheap when compared to most other shaving systems you'll find.
I mean, we're talking around $20 for the razor and then around 5 cents a blade depending on which ones you choose.
I'd highly recommend Feather blades, although Parker usually throws in a five-pack of Shark blades with each purchase which also made our list of the top razor blades.
Check the current price below on Amazon.
Don't just take our word for it, check out the over a thousand other glowing user reviews below.
Conclusion – Parker SR1 Review
While you'll read some Parker razor reviews that claim it works just as well as a classic straight razor, I personally have a hard time agreeing with them.
Now that's not to say that the Parker SR1review is necessarily a bad or poor quality razor, as it's actually a hell of a lot better than a lot of the crap on the market—even many products that sell for double or triple the price.
In truth, it really is the price where the SR1 stands out, as you're not going to find anything near the same quality for so cheap.
This is why I would definitely recommend it as a travel razor or a beginner's intro to straight razor shaving.
Check out this infographic (safety razor vs straight razor) to see the different razor types.
Still, there are plenty of diehard fans who only shave with the Parker SR1.
Frequently Asked Questions About Parker SR1 Review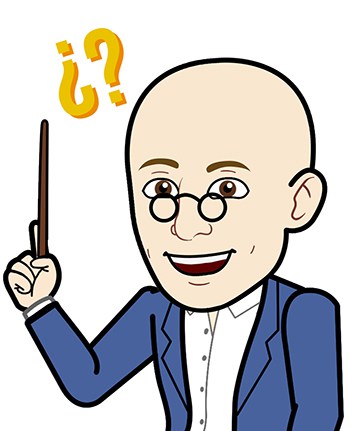 1. How Excellent are Parker Shavettes?
The Parker SR1 is a little more expensive than the other razors in our roundup of the best shavettes.
However, I believe that it is an excellent option for novices.
This razor can accompany you for many years as you perfect your skill, thanks to its good balance, optimal weight, and extremely durable construction.
2. Is It Better To Use a Shavette or a Straight Razor?
Shavettes are the appropriate companion if you're merely seeking a shaving tool to touch up a beard's cheek line.
They are significantly easier to use than straight or safety razors due to their small cutting edge and increased visibility.
3. What is the Best Way to Hold a Shavette?
With your dominant hand, hold the razor. Your thumb should be against the shoulder on the underside of the shank.
On the other side (top) of the shank, place your index, middle, and ring fingers.
The handle should be held between your ring and little fingers, with the little finger resting on the tang's crescent form.
4. Is It True That Straight-Edge Razors Are Superior?
Straight razors and safety razors are seen to be the superior choices.
Both safety and straight razors provide a close, smooth shave that is often superior to what an electric or cartridge razor can provide.
Safety and straight razors, on the other hand, require a little more upkeep.
If you found this article parker SR1 review helpful please be so kind as to share it on Facebook or other social media per the buttons below.
We really would appreciate it as we have worked so hard on this post for you.
I have a feeling some of your friends and family will find it helpful as well.
Also, be sure to join the Prim&Prep community!
Not only will you have a chance to WIN your choice of a quality safety razor or beard oil but we will provide you with all kinds of helpful and enlightening male grooming tips and advice directly to your inbox so you don't have to waste your time fiddling on the web to find the right information to look and feel your best.
There is nothing to lose and so much to gain.
SIMPLY SUBSCRIBE BELOW!