Heal Your Face with the Best Aftershave Balms
Here at Prim and Prep, we're huge fans of aftershave and, in truth, we don't think any shave can really be complete without it. A high quality aftershave can help soothe your skin and eliminate some of the pain and irritation of shaving. However, your choice of aftershave will go a long way towards determining the condition of your skin post-shave.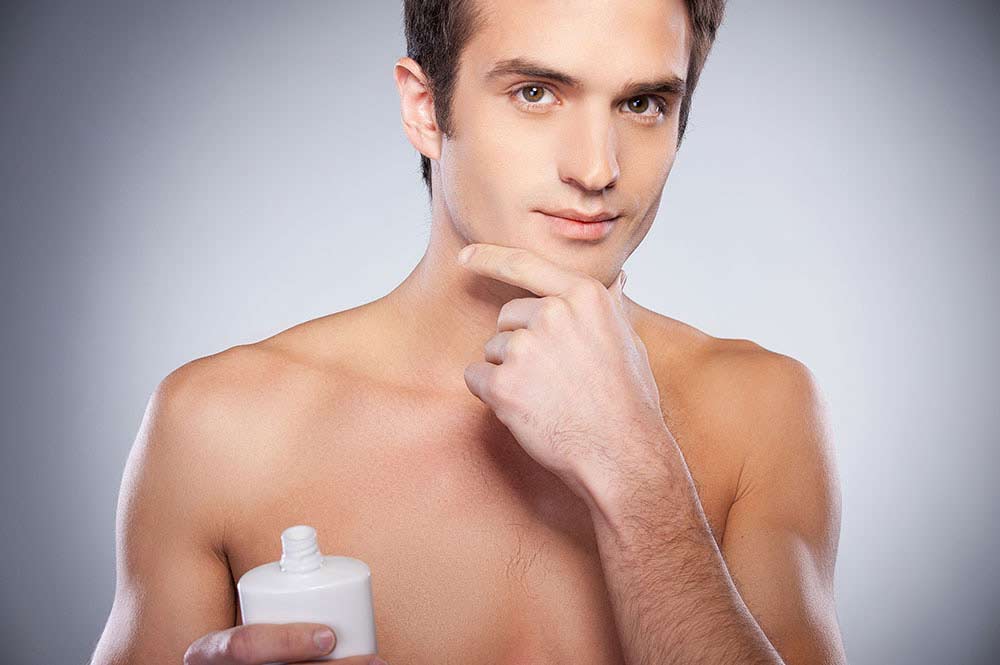 While liquid aftershaves usually have a fairly strong scent and are known to dry out skin (due to them containing alcohol), the best aftershave balms can still provide a soothing effect on the skin, while also nourishing and moisturizing the face. Typically, we would recommend men who suffer from dry skin or extreme irritation to skip the alcohol based products and choose a high quality moisturizing aftershave balm. However, we'd also recommend aftershave balms for men who wear cologne, as most have milder scents that tend to fade away quickly after use, meaning they won't interfere with your carefully chosen choice of scent.
Many men have told us that they stopped using aftershave due to the burning sensation or the fact that it dried out their skin, but as often as not, these men have never tried to switch to a soothing aftershave balm. The best aftershave balms really provide the best of both worlds, helping to calm skin irritation and prevent razor bumps and ingrown hairs, while also helping to moisturize, nourish and protect the skin. Basically, you can consider a quality aftershave balm in the same category as women's facial lotions, but really they are so much more. If you are interested in traditional aftershaves, we have an article outlining the best ones.
So, if you're sick and tired of the pain, irritation and dry skin that seems to come with shaving, don't throw away the razor (unless it a cruddy cartridge razor, then yes throw it away and pick up one of these top safety razors) and opt for the bearded look just yet, as any of the products on our list of the best aftershave balms may help you discover that a close shave and comfort can go hand in hand.
The Best Aftershave Balms for Men
#1 Baxter of California Aftershave Balm

One of the bestselling and best reviewed aftershave products on Amazon, this incredible alcohol-free aftershave balm from Baxter of California is definitely one of our favorites. In fact, we've yet to find anything about it that we didn't like. With natural ingredients like aloe vera and tea tree oil, this balm will definitely help soothe, nourish and heal your skin, but the part we like best is the addition of menthol, which provides an incredibly pleasant cooling effect that almost immediately eliminates any feelings of irritation.
All of Baxter of California's products seem to be well-loved by a huge number of men. They even made our exclusive list of the best face lotions for men, and this excellent aftershave balm is no exception. It features a mild lime scent that quickly fades away so as not to clash with your cologne, plus it has a unique formula that is a bit thicker than most, meaning one small tube should last you for many months. Not that should really be much of a problem, as a 4-ounce tube usually sells for less than $20. With a 4.5+ star rating on Amazon out of more than 100 reviews, you can feel confident you're getting a high quality product, backed up by Baxter's reputation for superior shaving products.
#2 Art of Shaving Aftershave Balm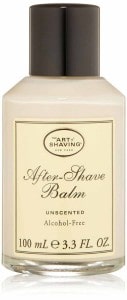 The Art of Shaving is hands-down one of our favorite male grooming companies, producing a wide line of excellent shaving creams, preshave oils and other related products. They even made our list of the best shaving creams for men. These guys truly know what they're doing when it comes to getting a high quality shave and their aftershave balms continue this pattern of excellence.
If you're looking for a particular fragrance, The Art of Shaving has got you covered, as its balms are available in three different scents—Sandalwood, Lavender and Lemon—plus an unscented version that's perfect for all you cologne wearers. Out of the three scents, we find the sandalwood to be the most pleasing and most manly. Still, despite lavender typically being considered a more feminine smell, we always know plenty of men who love it.
No matter what scent you choose, you can feel comfortable in the fact that you'll be getting one of the best aftershave balms on the market. These balms are alcohol-free so they won't dry your skin out, while the addition of vitamin C helps to revitalize and nourish your skin, repairing the damage from shaving.
At around $40 for a 3.4-ounce bottle, this is definitely in the higher end of the price range, but as its backed up by The Art of Shaving's reputation for shaving excellence, it's more than worth the added price and is guaranteed to be one of the best aftershave balms you'll ever try.
#3 Proraso Protective Aftershave Balm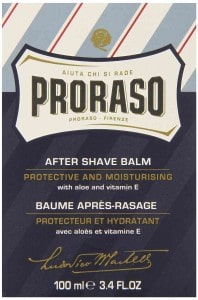 Like the Art of Shaving, Proraso is another one of our favorite names in shaving, which is why you'll also find them on several of our other best-of lists, including the best preshave oils and best aftershaves with alcohol. Still, while we definitely enjoy their liquid alcohol-based aftershave, we find Proraso Protective to be superior.
Proraso is the go-to name for high quality Italian shaving products and their Protective Aftershave Balm is truly one of the best aftershave balms on the market—especially considering the price. At around $15-20 for a 3.3-ounce bottle, Proraso Protective Aftershave Balm costs a bit more than the popular products from Nivea and other major brands, but in our opinion, is still a cut above them.
The balm contains aloe vera to help soothe the skin, plus vitamin E to help repair and protect. Not only that, but the addition of liquorice extract helps to calm the skin, reducing redness and irritation. Plus it features a nice, mild masculine scent and is guaranteed to not leave your skin feeling greasy like so many other balms. All in all, it's an outstanding way to provide a little facial pampering and ensure your shave is as pleasant as possible.
#4 Truefitt & Hill Trafalgar Aftershave Balm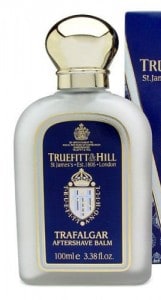 Those in the know are usually aware that the Brits tend to dominate the world of high quality shaving products. From straight razors to shave soaps, preshave oils, etc., British shaving products remain a step ahead most of the rest of the world. Still, there's only one British shaving company that can claim to be the Official Shaving Line of the British Royal Family—and that's Truefitt & Hill. So, if you want to experience what it feels like to be a king, there's nowhere else to look.
In truth, we probably could have included several different Truefitt & Hill products on our list of best aftershave balms, but in the end we decided to go with the aftershave balm that's part of the company's Trafalgar line of shaving products. We chose Trafalgar due to its nice spicy and woody scent, which we feel stands head and shoulders above most of its competitors. Nonetheless, Truefitt & Hill's 1805, Ultimate Comfort, Grafton and other aftershave balms are all exceptional products and work just as well—we just weren't as wild about their scents.
This balm contains aloe vera and lanolin to provide hydrating, soothing and nourishing effects to the skin, guaranteeing it will leave your face feeling smooth and comfortable. However, this is another product that does contain a small amount of alcohol, so it may not be the best choice for those who suffer from dry skin.
Overall, this is definitely an outstanding aftershave balm, but it does come with a slightly higher price tag than most, as you can expect to pay around $50 for 3.4-ounce bottle. In truth, it really doesn't provide any better nourishment or skin protection than many of the cheaper products on this list. Still, if you've got the extra cash to spend, you'll likely find it well worth the price.
#5 Geo F. Trumper's West Indian Lime Skin Food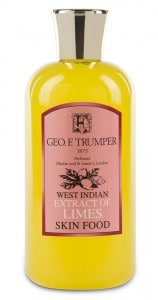 While not technically an aftershave, we had to include this fantastic product on our list of the best aftershave balms due to the huge number of men who swear by it for this purpose. In truth, this is really an all-around men's facial moisturizer/protectant. It can be used both before and after shaving, or just as a general facial lotion.
Geo F. Trumper's Skin Food is a unique gum and glycerin based balm that works to seal the skin after exfoliation (which happens as a result of shaving). Its special formula leaves the skin feeling smooth and dry, and it won't make your face greasy or clog your pores like so many others do. That being said, although it doesn't dry out the skin, it does still contain a small amount of alcohol, so if you're in the market for an alcohol free product, we'd suggest looking elsewhere.
Nonetheless, we found Geo F. Trumper's Skin Food to be an excellent choice for those with sensitive skin or anyone looking for something that's much more than just your basic aftershave balm. The light West Indian Lime scent is actually one of our favorite things about this product, as it makes it stand out from many of the overpowering or ultra-masculine scents you typically find in aftershaves. Still, it's also available in several other choices of fragrance if you're not wild about the idea of smelling like a lime.
This is another product that falls into that average price range of around $20 per 3.4-ounce bottle, making it not only affordable, but also one of the best aftershave balms you'll find considering the fact that it can actually offer so much more. ­­
#6 Nivea Men Q10 Energy Double Action Balm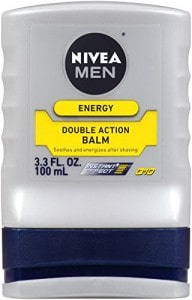 When deciding which products would make our list of the best aftershave balms, we almost left Nivea off the list, as in truth there are probably hundreds of better products out there. However, there's a huge number of men who swear by Nivea aftershave balms, and at just a few bucks per bottle, you really can't beat it for the price.
All in all, Nivea Q10 Energy should leave your skin feeling healthy and refreshed—just don't expect it to work as well or smell as nice as the more expensive products. Still, if you're looking for a cheap aftershave balm that gets the job done, you could probably do a hell of a lot worse.
Hey! Don't Leave Yet!
If you found this article helpful please be so kind as to share it on Facebook or other social media per the buttons below. We really would appreciate it as we have worked so hard on this post for you. I have a feeling some of your friends and family will find it helpful as well.
Also be sure to join the Prim&Prep community! Not only will you have a chance to WIN your choice of a quality safety razor or beard oil but we will provide you with all kinds of helpful and enlightening male grooming tips and advice directly to your inbox so you don't have to waste your time fiddling on the web to find the right information to look and feel your best. There is nothing to lose and so much to gain. SIMPLY SUBSCRIBE BELOW!