If you are looking for the best aftershaves on the market today you have come to the right place.
There are dozens of aftershaves out there and I believe we have practically tested them all.
At least any actually worth considering to make our coveted list 😉
After countless hours of research and testing, we have compiled this short list of the top quality aftershaves.
I think you will be pleasantly surprised they are all not the most expensive as price doesn't always translate to quality.
Each of these aftershaves has there own special quality so pick which one resonates with you the best and enjoy!
Use the table of contents below to jump to the sections most important to you.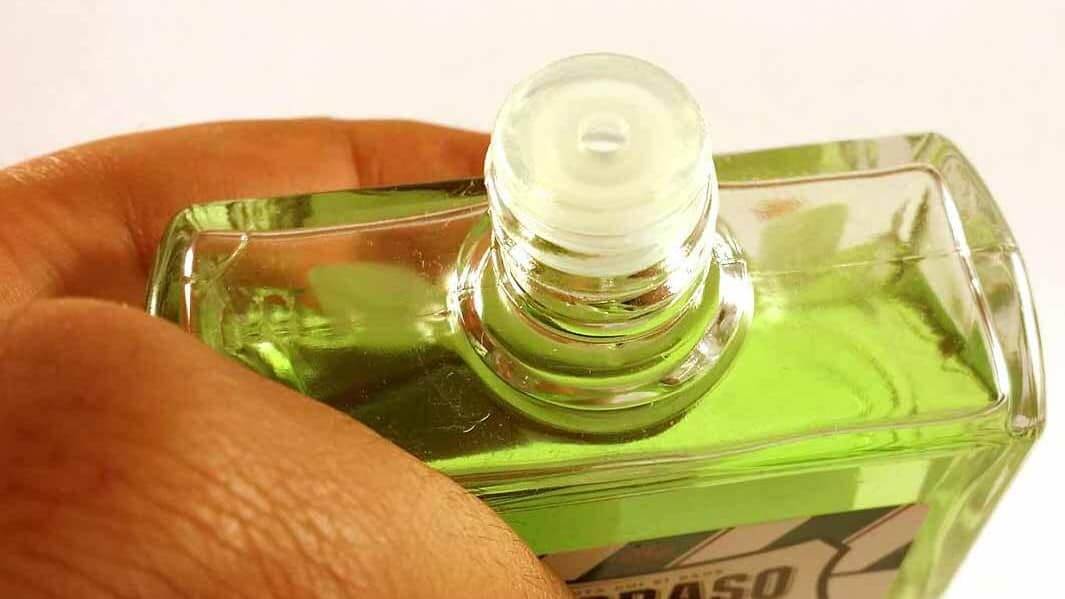 Top 10 Best Aftershaves Reviewed
#1 Proraso Aftershave Lotion (Best Lotion)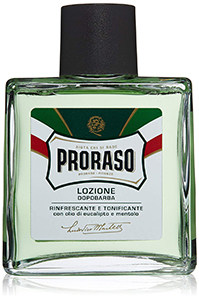 Type: Lotion
Scent: Menthol
Alcohol: Yes
Paraben Free: Yes
Good For: Normal or Oily Skin
Price: $$
Overview
Made in Italy from a company founded in 1908, this is a product that falls into that category of a true classic aftershave.
Proraso Aftershave Lotion has been the go-to product for men all around world for countless years.
Still, don't be fooled by the name of 'lotion', as we explained in the types of aftershave section above, aftershave lotions are more like splashes vs. a creamy balm.
So, if you're one of those guys that actually enjoy the burning, tingling sensation you get from a high-quality aftershave, you'll definitely love this one.
Benefits
Proraso puts a hint of menthol in their aftershave, which both provides a refreshing cool to the face.
You will also benefit from the purifying properties of the eucalyptus, and astringent properties of the witch hazel.
It's 100% free from parabens, artificial colors, silicones, mineral oils and other undesirables and it is sure to leave you feeling like a million bucks.
Scent
The menthol adds a nice hint of minty fragrance which isn't overpowering and it makes this product stand out from many of the "old man" aftershaves (think Old Spice).
However, the minty smell may clash with cologne, so it's probably best for guys who forego cologne or can afford to wait an hour or two before splashing on their favorite fragrance.
Conclusion
We rate virtually all of the shaving products from Proraso quite highly, as we've yet to come across a bad one.
They even made our list of the best pre-shave oils.
If you have normal to oily skin want to enjoy the anti-bacterial benefits of an alcohol-based aftershave, Proraso Aftershave has the low price and high quality you've been searching for.
This is the best traditional aftershave out there on the market.
They also have another aftershave lotion with shea butter and sandalwood oil instead of the eucalyptus and menthol.
#2 Art of Shaving Aftershave Balm (Best Balm)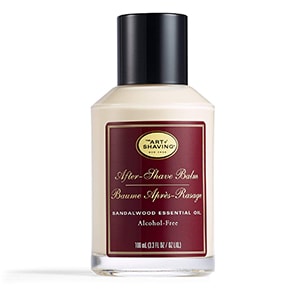 Type: Balm
Scent: Sandalwood, Lemon, Lavender, Unscented, & More
Alcohol: No
Paraben Free: Yes
Good For: Dry or Sensitive Skin
Price: $$$
Overview
The Art of Shaving is hands-down one of our favorite male grooming companies, producing a wide line of excellent shaving creams, preshave oils and other related products.
They even made our list of the best shaving creams for men.
These guys truly know what they're doing when it comes to getting a high-quality shave and their aftershave balms continue this pattern of excellence.
It comes in a nice compact 3.4oz glass bottle which has a great aesthetic but you may have some difficulties getting the last bit of balm out of the bottle.
If you have extremely sensitive skin I recommend you go with the unscented version as even the essential oils that provide the various scents can be irritating to the most sensitive of skin.
Benefits
These balms are alcohol-free so they won't dry your skin out and is non-comedogenic so it won't block pores and cause any acne or other skin problems.
The shea butter and glycerin does a great job at moisturizing your skin throughout the day while the addition of vitamin C helps to revitalize and nourish your skin, repairing the damage from shaving.
It also has a variety of other oils and extracts that improve the elasticity of your skin helping to alleviate the signs of aging.
Scent
If you're looking for a particular fragrance, The Art of Shaving has got you covered, as its balms are available in 5 different scents, plus an unscented version that's perfect for all you cologne wearers.
Out of the three scents, we find the sandalwood to be the most pleasing and most manly.
If you like to wear cologne and enjoy The Art of Shaving's Sandalwood scent as much as we do, you can also pair this aftershave balm with The Art of Shaving's Sandalwood & Cypress Cologne.
They really complement themselves nicely.
Still, despite lavender typically being considered a more feminine smell, we always know plenty of men who love this scent as well
No matter what scent you choose, you can feel comfortable in the fact that you'll be getting one of the best aftershave balms on the market.
Conclusion
This is definitely in the higher end of the price range but as its backed up by The Art of Shaving's reputation for shaving excellence, it's more than worth the added price and is guaranteed to be one of the best aftershave balms you'll ever try.
With its outstanding list of ingredients that provide so many benefits to your skin and the practically exhaustive list of available scent, this is hands down the best aftershave balm on the market today.
#3 Bay Rum Aftershave by Barbary Coast Shave Co. (Best Splash)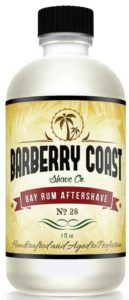 Type: Splash
Scent: Bay Rum
Alcohol: Yes
Paraben Free: Yes
Good For: Normal or Oily Skin
Price: $$$
Overview
Barberry Coast is one of numerous different companies that produce the ever so popular 'Bay Rum' aftershaves but don't dare group them all as the same as Barbary Coast's aftershave definitely ranks above the rest.
While you can expect a 4-ounce bottle to cost a couple extra dollars than others, we find the price is well worth it for one of the finest, all natural handmade aftershaves on the market.
Benefits
Suitable for vegans and with no GMOs, synthetic chemicals or artificial colors, this is truly about as natural as you can get.
As you may know, we are big proponents of natural products due to their superior performance, health benefits, and environmental friendliness.
Better still, it contains pure glycerin to help nourish the skin and eliminate the drying effects most alcohol-based aftershaves have.
Scent
All that being said, this is probably the most classic smelling aftershave on our list, and in fact, the bay rum fragrance is the oldest of all aftershave scents.
It truly is an intoxicating scent.
It is no wonder why it has been the most commonly searched for aftershave scent online for many years.
Conclusion
If you are looking for a classic 'splash' aftershave, you cannot do any better than this one.
So, if you're looking for something with a classically masculine scent that is all natural and won't leave your skin dried out, look no further than Barbary Coast Shave's Bay Rum Aftershave.
Wait! Use This Promo Code: PRIMPREP for a one time 10% discount on all Barberry Coast products on Amazon
#4 Baxter of California Aftershave Balm

Type: Balm
Scent: Lime
Alcohol: No
Paraben Free: Yes
Good For: Dry or Sensitive Skin
Price: $$
Overview
Practically all of Baxter of California's products seem to be well-loved by a huge number of men.
They even made our exclusive lists of the best face lotions for men and the 5 best bar soaps for men, and this excellent aftershave balm is no exception.
One of the bestselling and best reviewed aftershave products on Amazon, this incredible alcohol-free aftershave balm from Baxter of California is definitely one of our favorites.
In fact, we've yet to find anything about it that we didn't like.
It comes in a 4oz tube which I personally appreciate as the tube makes it easy to squeeze out every last drop of the balm unlike the glass bottles that can be a little cumbersome.
Benefits
With natural ingredients like aloe vera and tea tree oil, this balm will definitely help soothe, nourish and heal your skin.
The part we like best is the addition of menthol, which provides an incredibly pleasant cooling effect that almost immediately eliminates any feelings of irritation.
This balm has a unique formula that is a bit thicker than most, meaning one small tube should last you for many months.
Scent
It features a mild lime scent that quickly fades making it a great aftershave balm for those who wear cologne and have concerns about clashing scents.
Conclusion
As it received outstanding marks from our own personal testing and the stellar reviews it has received from numerous customers on Amazon, you can feel confident you're getting a high-quality product, backed up by Baxter's reputation for superior shaving products.
#5 Proraso Aftershave Balm, Protective and Moisturizing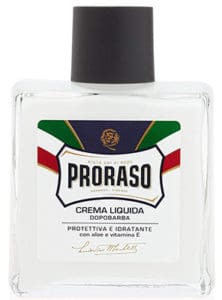 Type: Balm
Scent: Amber & Musk
Alcohol: No
Paraben Free: Yes
Good For: Dry or Sensitive Skin
Price: $$
Overview
Proraso has already made our list with their aftershave lotion but we had to put them on again as their aftershave balm is stellar as well.
Similar to the lotion, the balm comes in a 3.4oz glass bottle.
Benefits
The balm contains aloe vera to help soothe the skin, plus vitamin E to help repair and protect.
Not only that, but the addition of liquorice extract helps to calm the skin, reducing redness and irritation.
This alcohol-free balm has a very creamy texture but is guaranteed to not leave your skin feeling greasy like so many other balms.
Scent
The balm features a nice, mild masculine scent of Amber & Musk.
Conclusion
Proraso Protective Aftershave Balm costs a bit more than the popular products from Nivea and other major brands, but is very reasonably priced for a top shelf aftershave balm.
For those who want to try out one of these Italian made products but want to avoid an alcohol-based aftershave lotion, the Proraso Aftershave Balm, Protective and Moisturizing is the perfect alternative.
All in all, it's an outstanding way to provide a little facial pampering and ensure your post shave is as pleasant as possible.
#6 Truefitt & Hill Trafalgar Aftershave Balm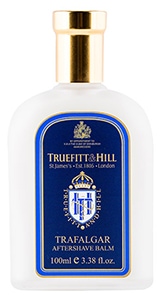 Type: Balm
Scent: Woody
Alcohol: No
Paraben Free: Yes
Good For: Normal or Oily Skin
Price: $$$
Overview
Those in the know are usually aware that the Brits tend to dominate the world of high-quality shaving products.
From straight razors to shave soaps, preshave oils, etc., British shaving products remain a step ahead of most of the rest of the world.
Still, there's only one British shaving company that can claim to be the Official Shaving Line of the British Royal Family—and that's Truefitt & Hill.
So, if you want to experience what it feels like to be a king, there's nowhere else to look.
In truth, we probably could have included several different Truefitt & Hill products on our list of best aftershave, but in the end we decided to go with the aftershave balm that's part of the company's Trafalgar line of shaving products.
Benefits
This balm contains aloe vera and lanolin to provide hydrating, soothing and nourishing effects to the skin, guaranteeing it will leave your face feeling smooth and comfortable.
However, this is another product that does contain a small amount of alcohol, so it may not be the best choice for those who suffer from dry skin.
Scent
One reason we chose the Trafalgar over the other Truefitt & Hill products was due to its nice spicy and woody scent, which we feel stands head and shoulders above most of its competitors.
Nonetheless, Truefitt & Hill's 1805, Ultimate Comfort, Grafton and other aftershave balms are all exceptional products and work just as well—we just weren't as wild about their scents.
Conclusion
Overall, this is definitely an outstanding aftershave balm, but it does come with a slightly higher price tag than most, as you can expect to pay around $50 for 3.4-ounce bottle.
In truth, it really doesn't provide any better nourishment or skin protection than many of the cheaper products on this list. Still, if you've got the extra cash to spend, you'll likely find it well worth the price.
#7 Lucky Tiger Aftershave and Face Tonic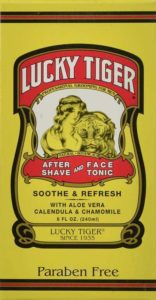 Type: Splash
Scent: Citrus
Alcohol: No
Paraben Free: Yes
Good For: All Skin Types
Price: $$
Overview
Lucky Tiger is a leading name in men's shaving and grooming products, which produces several different varieties of aftershaves.
However, for our money, the original Lucky Tiger Aftershave & Face Tonic is the pick of the litter.
The labeling looks more like an ancient eastern medicine but this aftershave is actually produced right here in the old US of A, more specifically, Milwaukee, Wisconsin.
The 8oz bottle is made out of plastic so you can be rest assured if it happens to fall off the counter, it won't break into a million shards of glass on your bathroom counter.
Benefits
Containing witch hazel, it is a great astringent that will help tone and tighten the skin.
It also contains chamomile, aloe vera, calendula and a variety of other ingredients, this product is sure to leave your skin feeling relaxed and refreshed, while the added vitamin A helps to repair the skin following your shave.
It is alcohol-free which makes it good for those with dry or sensitive skin.
Scent
It has a quite light citrusy fragrance, with hints of orange, grapefruit and tangerine, which is definitely not overpowering and quickly fades away after use.
This means it can be used as freely by cologne wearers and non-cologne guys alike.
In truth, this is a classic aftershave in virtually everything but the scent.
Conclusion
This is truly an exceptional splash aftershave at a very reasonable price.
Based on its ingredients, it is basically suitable for all skin types.
Obviously for various reasons, one may prefer an alcohol-based aftershave in which this would not be the aftershave for you.
#8 Clubman Pinaud Aftershave Lotion

Type: Splash
Scent: Barbershop
Alcohol: Yes
Paraben Free: Yes
Good For: Normal or Oily Skin
Price: $
Overview
If low price is your ultimate deciding factor, look no further than Clubman Pinaud Aftershave Lotion—the best-selling and most well-reviewed aftershave on Amazon.
It comes in both 6oz and 12.5oz bottles.
Benefits
This aftershave simply contains alcohol, water, some sort of mystery scenting agent, and chemical colorants.
So from an ingredients perspective, I can't really say it offers much besides the anti-bacterial benefits of alcohol.
Like all other alcohol-based aftershaves, you'll get that refreshing tingle as you apply it.
Scent
You'll also be getting a bit stronger, more masculine smelling scent than with many other products, which can either be a good thing or bad, depending on your preferences.
Conclusion
Still, where this product really excels is in terms of price.
Now we can't say this is truly on of the best aftershaves on the market, but it's surely the best you'll get for such an extremely low cost.
With countless stellar reviews on Amazon, we've yet to come across an aftershave with so many dedicated fans.
I will also say they did make the honorable mention on our list of the best mustache waxes.
#9 Geo F. Trumper's West Indian Lime Skin Food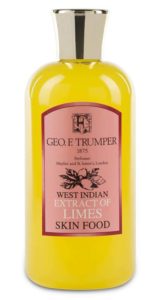 Type: Balm
Scent: Barbershop
Alcohol: Yes
Paraben Free: Yes
Good For: All Skin Types
Price: $$
Overview
While not technically an aftershave, we had to include this fantastic product on our list of the best aftershave due to the huge number of men who swear by it for this purpose.
In truth, this is really an all-around men's facial moisturizer/protectant.
It can be used both before and after shaving, or just as a general facial lotion.
Benefits
Geo F. Trumper's Skin Food is a unique gum and glycerin based balm that works to seal the skin after exfoliation (which happens as a result of shaving).
Its special formula leaves the skin feeling smooth and dry, and it won't make your face greasy or clog your pores like so many others do.
That being said, although it doesn't dry out the skin, it does still contain a small amount of alcohol, so if you're in the market for an alcohol-free product, we'd suggest looking elsewhere.
Scent
The light West Indian Lime scent is actually one of our favorite things about this product, as it makes it stand out from many of the overpowering or ultra-masculine scents you typically find in aftershaves.
Still, it's also available in several other choices of fragrance if you're not wild about the idea of smelling like a lime.
Overview
We found Geo F. Trumper's Skin Food to be an excellent choice for those with sensitive skin or anyone looking for something that's much more than just your basic aftershave balm.
This is another product that falls into that average price range for a 3.4oz bottle, making it not only affordable, but also one of the best aftershave balms you'll find considering the fact that it can actually offer so much more. ­­
#10 Nivea Men Q10 Energy Double Action Balm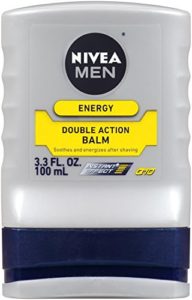 Type: Balm
Scent: Fresh
Alcohol: Yes
Paraben Free: No
Good For: Normal or Oily Skin
Price: $
Overview
When deciding which products would make our list of the best aftershave balms, we almost left Nivea off the list, as in truth there are probably hundreds of better products out there.
However, there's a huge number of men who swear by Nivea aftershave balms, and at just a few bucks per bottle, you really can't beat it for the price.
Benefits
This aftershave balm contains coenzyme Q10 which is a naturally occurring enzyme within your body that dissipates as you get older.
Applying this coenzyme to your skin is believed to help fight the signs of aging.
It does contain various parabens which are known to cause various skin issues for some and possibly even health issues.
For this reason, I would not recommend this product to people with sensitive skin.
Scent
The balm has a strong "fresh" scent that some people absolutely adore and some despise.
The scent does seem to dissipate quickly though.
Conclusion
All in all, Nivea Q10 Energy should leave your skin feeling healthy and refreshed.—just don't expect it to work as well or smell as nice as the more expensive products.
Still, if you're looking for a cheap aftershave balm that gets the job done, you could probably do a hell of a lot worse.
Nivea does make a great body wash that recently made our list of the best body washes for men!
My Two Cents About Aftershaves
For some reason, aftershave is one of those products that has seemed to go out the window for most men.
Whether it's because of the added expense, the extra time or simply because it seems unnecessary, a large portion of men no longer use aftershave.
However, if you're one of those unfortunate men who suffer from ingrown hairs, razor burn or any of the other annoying issues that come with shaving your face, then you may want to reconsider your stance on aftershave.
When it comes to determining the best aftershave, it's incredibly subjective and really comes down to a matter of personal preference.
For some men, standard alcohol-based aftershaves will do the trick, while others may want to look into an aftershave balm or lotion (best aftershave balm article).
This is especially true for men who often have issues with dry skin, as the alcohol-based aftershaves can magnify this issue.
On the other hand, there are also quite a few advantages to using an alcohol-based aftershave, as it can help prevent razor burn and ingrown hairs by acting as both an astringent and antiseptic.
Due to the huge variations in types of aftershave, we've decided to split them up into separate categories.
Here we will focus on the traditional best aftershaves and lotions (the more runny, alcohol-based varieties).
For those that want the more nourishing and conditioning effects of an alcohol-free aftershave balm, we've covered those in a separate post (refer to the link above).
Why Use Aftershave?
As we said, many men forego what is actually an essential part of shaving when they make the decision to not use aftershave.
In addition to making you smell nice, many aftershaves also contain ingredients such as witch hazel, which works as an astringent, helping to tighten the skin and close any open pores of cuts.
They can also help prevent ingrown hairs and other issues by helping to clean out the skin due to their antiseptic properties.
On that note, I must remind you how important it is to use a quality safety razor and a premium shaving soap to help prevent such issues as well.
So, if you struggle from any of the issues we've mentioned, we highly recommend you choose any product from our list of the best aftershaves, as they can help eliminate these issues and make you feel like a brand new man.
That being said, there are literally thousands upon thousands of aftershave products on the market, making it pretty much impossible to test even a small percentage of them.
So, while we consider the following products to be amongst the best aftershaves available, not all of the products may be right for you depending on your skin type and personal preferences.
Important Note on Scent Selection
The best aftershaves come in a wide variety of different scents—from woody to fruity, citrus to spicy and virtually everything in between.
The majority of aftershaves have a fairly light scent, which may seem a bit strong at first but will quickly fade to be virtually unnoticeable.
For this reason, we would probably put smell as one of the least important aspects of choosing an aftershave, as it's more important to get something that will properly nourish, soothe and repair your skin.
However, this is really only true for men who don't wear cologne.
If you do happen to splash on a bit of cologne every morning, you should pay a bit more attention to the smell of the aftershave you choose, as you don't want to get something that conflicts too much with the scent of your cologne.
Better still, you could look to see if your cologne manufacturer also makes a corresponding aftershave.
Many of the major cologne brands, such as Ralph Lauren, Davidoff, and Nautica, also make aftershaves that are designed to match or complement the scent of their cologne, which can help you avoid the unfortunate or unpleasant smells that can come with mixing scents.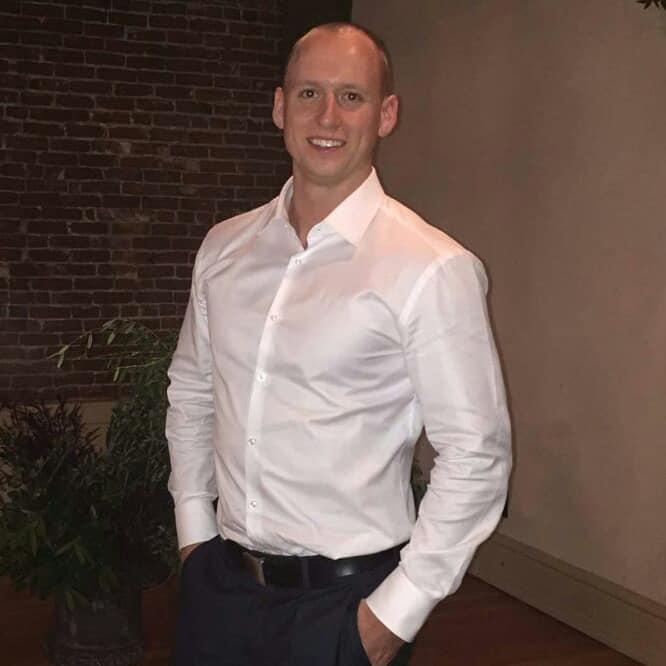 Ben Rose is the founder and senior editor at Prim&Prep, the definitive guide to male grooming. He is a wet shaving expert and body grooming aficionado. His work has been featured on many other prominent publications including Good Men Project, Addicted to Success, Steven Aitchison, and Sharpologist.