Smell Like a Man with the Best Aftershaves on the Market Today
For some reason, aftershave is one of those products that has seemed to go out the window for most men. Whether it's because of the added expense, the extra time or simply because it seems unnecessary, a large portion of men no longer use aftershave. However, if you're one of those unfortunate men who suffers from ingrown hairs, razor burn or any of the other annoying issues that come with shaving your face, then you may want to reconsider your stance on aftershave.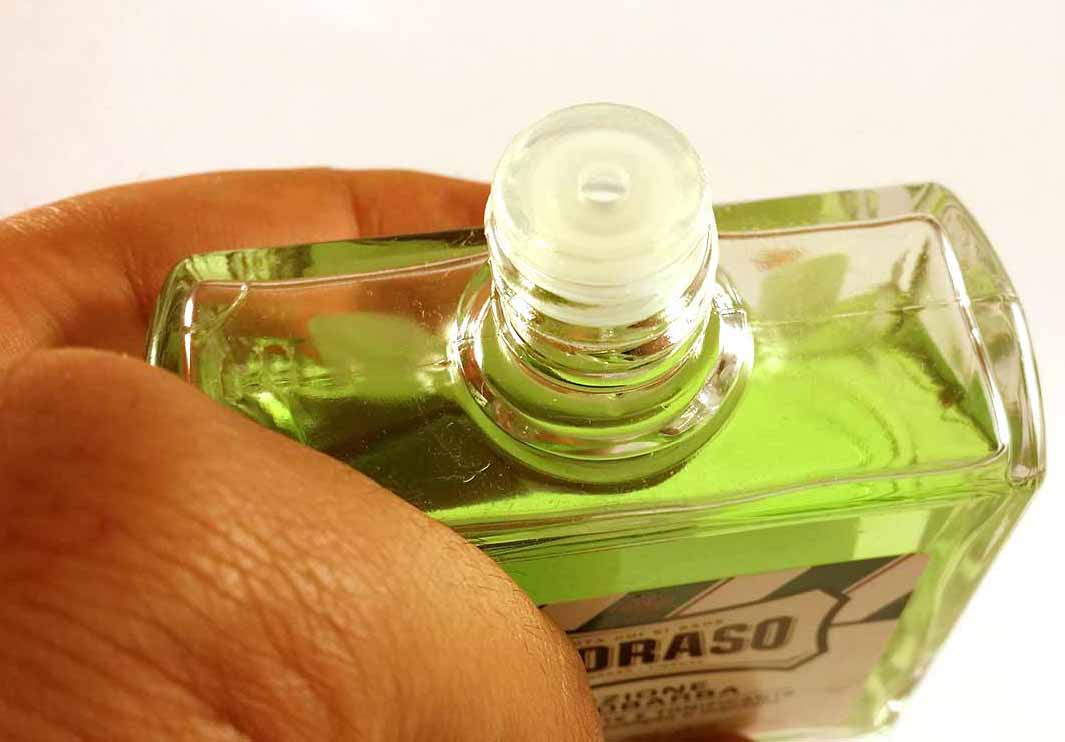 When it comes to determining the best aftershave, it's incredibly subjective and really comes down to a matter of personal preference. For some men, standard alcohol-based aftershaves will do the trick, while others may want to look into an aftershave balm or lotion (best aftershave balm article). This is especially true for men who often have issues with dry skin, as the alcohol-based aftershaves can magnify this issue. On the other hand, there are also quite a few advantages to using an alcohol-based aftershave, as it can help prevent razor burn and ingrown hairs by acting as both an astringent and antiseptic.
Due to the huge variations in types of aftershave, we've decided to split them up into separate categories. Here we will focus on the traditional best aftershaves and lotions (the more runny, alcohol based varieties). For those that want the more nourishing and conditioning effects of an alcohol-free aftershave balm, we've covered those in a separate post (refer to link above).
Why Use Aftershave?
As we said, many men forego what is actually an essential part of shaving when they make the decision to not use aftershave. In addition to making you smell nice, many aftershaves also contain ingredients such as witch hazel, which works as an astringent, helping to tighten the skin and close any open pores of cuts. They can also help prevent ingrown hairs and other issues by helping to clean out the skin due to their antiseptic properties. On that note, I must remind you how important it is to use quality safety razor and a premium shaving soap to help prevent such issues as well.
So, if you struggle from any of the issues we've mentioned, we highly recommend you choose any product from our list of the best aftershaves, as they can help eliminate these issues and make you feel like a brand new man. That being said, there are literally thousands upon thousands of aftershave products on the market, making it pretty much impossible to test even a small percentage of them. So, while we consider the following products to be amongst the best aftershaves available, not all of the products may be right for you depending on your skin type and personal preferences.
The best aftershaves come in a wide variety of different scents—from woody to fruity, citrus to spicy and virtually everything in between. The majority of aftershaves have a fairly light scent, which may seem a bit strong at first but will quickly fade to be virtually unnoticeable. For this reason, we would probably put smell as one of the least important aspects of choosing an aftershave, as it's more important to get something that will properly nourish, soothe and repair your skin.
However, this is really only true for men who don't wear cologne. If you do happen to splash on a bit of cologne every morning, you should pay a bit more attention to the smell of the aftershave you choose, as you don't want to get something that conflicts too much with the scent of your cologne. Better still, you could look to see if your cologne manufacturer also makes a corresponding aftershave. Many of the major cologne brands, such as Ralph Lauren, Davidoff and Nautica, also make aftershaves that are designed to match or complement the scent of their cologne, which can help you avoid the unfortunate or unpleasant smells that can come with mixing scents.
Best Aftershaves for Men
#1 Lucky Tiger Aftershave and Face Tonic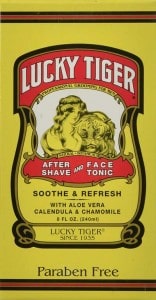 Lucky Tiger is a leading name in men's shaving and grooming products, which produces several different varieties of aftershaves. However, for our money, the original Lucky Tiger Aftershave & Face Tonic is the pick of the litter. Containing witch hazel, chamomile, aloe vera, calendula and a variety of other ingredients, this product is sure to leave your skin feeling relaxed and refreshed, while the added vitamin A helps to repair the skin following your shave.
It has a quite light citrusy fragrance, with hints of orange, grapefruit and tangerine, which is definitely not overpowering and quickly fades away after use. This means it can be used as freely by cologne wearers and non-cologne guys alike. In truth, this is a classic aftershave in virtually everything but the scent. There's really nothing exceptional about this product, but it definitely gets the job done and for a great price at around $15 for an 8-ounce bottle.
#2 Proraso Aftershave Lotion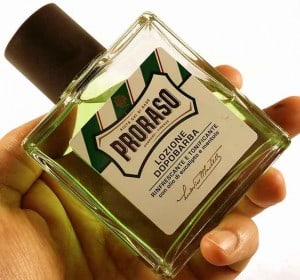 Another product that falls into that category of a true classic aftershave, Proraso Aftershave Lotion has been the go-to product for men in Italy for years. Still, don't be fooled by the name, as although it says lotion, it is really much more like a standard liquid aftershave. So, if you're one of those guys that actually enjoys the burning, tingling sensation you get from a high quality aftershave, you'll definitely love this one.
Proraso puts a hint of menthol in their aftershave, which both provides a refreshing cool to the face, but also adds a nice hint of minty fragrance as well. The menthol definitely isn't overpowering and it makes this product stand out from many of the "old man" aftershaves (think Old Spice). However, the minty smell may clash with cologne, so it's probably best for guys who forego cologne or can afford to wait an hour or two before splashing on their favorite fragrance.
We rate virtually all of the shaving products from Proraso quite highly, as we've yet to come across a bad one. They even made our list of the best pre shave oils. At less than $15 for a 3.4 ounce bottle, Proraso Aftershave has the low price and high quality you've been searching for. It's 100% free from parabens, artificial colors, silicons, mineral oils and other undesirables and it is sure to leave you feeling like a million bucks.
#3 Clubman Pinaud Aftershave Lotion

If low price is your ultimate deciding factor, look no further than Clubman Pinaud Aftershave Lotion—the best-selling and most well-reviewed aftershave on Amazon. For less than $10, you can get a 6-ounce bottle of this refreshing lotion that helps to heal nicks and cuts and will leave you feeling like a rock star.
Like all other alcohol-based aftershaves, you'll get that refreshing tingle as you apply it, although we didn't find it to be nearly as bad as with many other products. You'll also be getting a bit stronger, more masculine smelling scent than with many other products, which can either be a good thing or bad, depending on your preferences.
Still, where this product really excels is in terms of price. Now we probably wouldn't say that it's the hands down best aftershave on the market, but it's surely the best you'll get for such a low cost. That being said, it really does have about all you could want in a quality aftershave lotion and comes highly recommended. With a 4.5 star rating out of more than 600 reviews, we've yet to come across an aftershave with so many dedicated fans. I will also say they have other quality products as well as they even were an honorable mention on our list of the best mustache waxes.
#4 Bay Rum Aftershave by Barbary Coast Shave Co.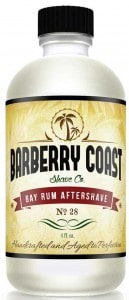 All of the previous products we've mentioned fell more into the bottom end of the price range, especially when compared to the branded aftershaves from the major cologne manufacturers. However, if you're willing to spend a bit of extra cash, another one of the best aftershave products we've come across is Barbary Coast Shave Co.'s Bay Rum Aftershave.
There are actually numerous different companies that produce Bay Rum aftershaves, not all of which we've been able to test. However, of the ones we've tested, Barbary Coast Shave's definitely ranks up near the top. While you can expect a 4-ounce bottle to set you back between $30-50, we find the price is well worth it for one of the finest, all natural handmade aftershaves on the market.
Suitable for vegans and with no GMOs, synthetic chemicals or artificial colors, this is truly about as natural as you can get. Better still, it contains pure glycerin to help nourish the skin and eliminate the drying effects most alcohol-based aftershaves have. All that being said, this is probably the most classic smelling aftershave on our list, and in fact, the bay rum fragrance is the oldest of all aftershave scents.
So, if you're looking for something with a classically masculine scent that is all natural and won't leave your skin dried out, look no further than Barbary Coast Shave's Bay Rum Aftershave.
Hey! Don't Leave Yet!
If you found this article helpful please be so kind as to share it on Facebook or other social media per the buttons below. We really would appreciate it as we have worked so hard on this post for you. I have a feeling some of your friends and family will find it helpful as well.
Also be sure to join the Prim&Prep community! Not only will you have a chance to WIN your choice of a quality safety razor or beard oil but we will provide you with all kinds of helpful and enlightening male grooming tips and advice directly to your inbox so you don't have to waste your time fiddling on the web to find the right information to look and feel your best. There is nothing to lose and so much to gain. SIMPLY SUBSCRIBE BELOW!