Real Men Use the Best Shaving Bowls
If you're truly interested in getting the best, closest shave possible, a traditional wet shave is really the only way to go. However, as any man who swears by wet shaving can tell you, this process involves a bit more of a financial commitment. While many men simply grab a disposable razor and a cheap can of aerosol shaving cream every time they shave, a traditional wet shave requires a bit more planning and preparation, as it's important to have the right equipment.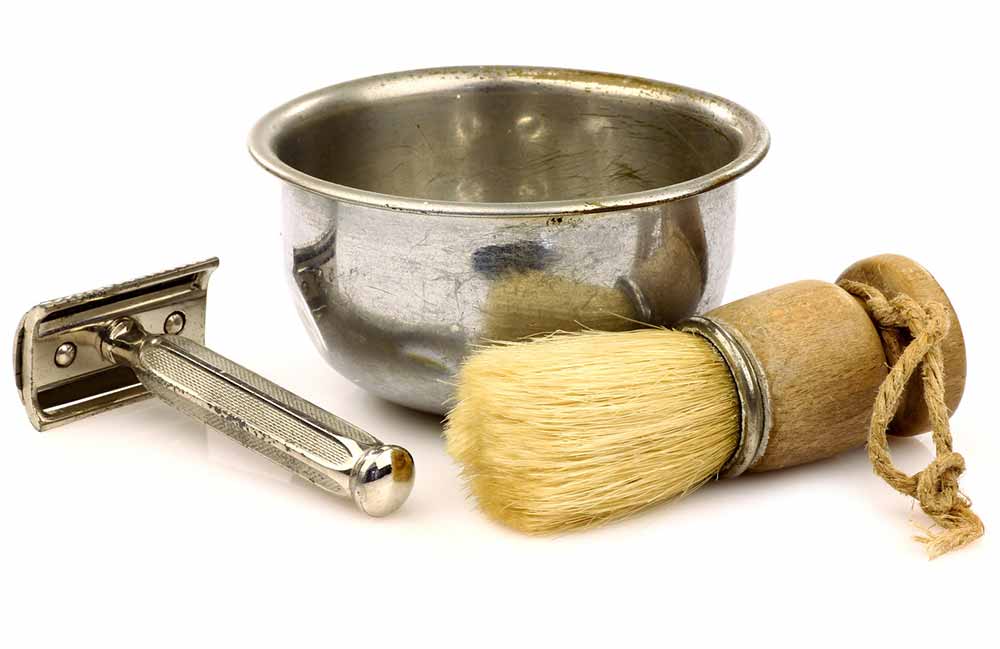 Not only will you need to invest in a quality razor (be it a straight or safety razor), but you'll also need to purchase a shaving soap (or quality shaving cream), shaving brush and shaving bowl—and when it comes to all of these essentials, the most important thing to remember is that quality does matter. Of course, the quality of your razor, shaving soap and shaving brush are obviously much more important than the quality of your shaving bowl or mug, but that doesn't mean that some products aren't much better and easier to use than others. We have meticoulously reviewed all of the products referreed to above, so before you buy your supplies I would recommend you also check out our reviews of the top safety razors, shaving soaps, and shaving brushes.
Still, while there may not be such a thing as the number one best shaving bowl in the world, like everything, some products are definitely superior to others. So, to move you further along in your quest for the perfect shave, we're here to help you understand everything you need to know about wet shaving. We've previously covered how to wet shave, as well as the best shaving soaps, best shaving brushes and other key topics, so now it's time to move into the one area that typically gets the least attention—how to find the best shaving bowl.
Still, keep in mind that this information will really only be of use to you if you already have or are planning to buy a puck of shaving soap and a shaving brush. Otherwise, if you use any other type of shaving product, you can simply lather up with your fingers as normal.
An Introduction to Shaving Bowls, Mugs and Scuttles
In the past, shaving bowls or mugs were something that all men owned, but with the advent of other shaving methods, they've kind of gone by the wayside. Still, the fact that they were once so common means it's now possible to find a huge variety of vintage shaving bowls or mugs, but in truth, these are really only worth it for the nostalgic value, as they often cost quite a bit more than a new bowl or mug.
Whether you're a retro kind of a guy or simply looking for a new shaving bowl, there are a number of choices you'll need to make. For starters, you'll need to decide between a mug, bowl or scuttle. In most cases, you'll only need one of the three, but there are men who use both a bowl and a mug or scuttle.
The reason behind this is that shaving mugs and scuttles are used to hold the puck of shaving soap along with a small amount of water, allowing the puck to be softened so that the soap can be loaded on the shaving brush. The mug or scuttle can also be used to build up the lather, but some men prefer to use a separate bowl for this purpose, as building lather directly on the puck often ends up using more soap than necessary. Considering the somewhat high price of many quality shaving soaps, this could be a bit of an issue as it's quite likely that you'll need to replace your soap more than often than you would otherwise.
Nonetheless, a shaving bowl is not all that essential, as you can always build up the lather directly on your face after loading the brush with soap. In fact, some types of shaving soap lather better this way, but on the other hand, some need to be worked with a brush for quite some time to build up a decent lather. Of course, you can always just use a coffee cup or bowl from your kitchen for this purpose, although possibly not with as good of results, as the best shaving bowls and mugs are typically designed to hold in heat, allowing you to warm up your lather before shaving.
Shaving scuttles are not so popular nowadays, although we can't really understand why, as they do offer a bit more convenience over a typical mug or bowl. A true shaving scuttle is fairly similar to a mug, except that it has a separate spout designed to hold the shaving brush. Before wet shaving, it's always necessary to soak both the puck of shaving soap and the brush and scuttles offer the convenience of being able to soak both in warm water in the same container. In addition, the spout can also be used to dip the brush during shaving, in case you need to add a bit more water to the lather.
Do You Really Need a Shaving Bowl?
As we said, shaving bowls are usually considered a non-essential item for wet shaving, but whether or not you actually need one depends on the type of shaving soap you're using. Nowadays there are a huge number of shaving soaps that come in their own bowl or tin, which allows you to add a small amount of water directly to the soap and thus eliminates the need for a shaving bowl if you plan on building up the lather directly on the face.
However, there are also a number of shaving soap pucks that don't come with a container and are usually a bit cheaper than those that do. If you choose to go with one of these soaps, you will need at least some sort of container to soak the soap in water, which is where a scuttle or mug comes in. In addition, even if you're using a soap that does come with a container, you may find that it doesn't lather so well on the face, in which case you should probably invest in a bowl.
Finally, there are also a newer type of shaving cream scuttle that is designed to hold the shaving cream (instead of shaving soap) next to the spout of warm water, which allows the lather to warm up before you use it. While not necessary, the feeling of shaving with warm shaving cream is incredibly pleasant and may be something you want to consider.
The Best Shaving Bowls: Choosing Your Material
After deciding whether you want a bowl, mug or scuttle, the next step is to choose the material it's made of. In our opinion, the best shaving bowls are those made of either ceramic or stoneware, as they hold in heat better and again allow you to experience the joy of shaving with warm lather (which will also help you to get a closer shave in addition to simple feeling nice).
However, the one problem with these bowls is that they tend to be a bit more fragile and will likely break if you should ever drop it. So, if you're worried about your butterfingers, you may want to consider a metal shaving bowl or mug. While metal doesn't hold heat in quite as well as ceramic or stone, it will still easily get the job done.
There are also a huge number of wood shaving bowls on the market today, which usually look quite stylish but also don't hold in heat. Nonetheless, these are usually quite a bit cheaper than all the others and are still worth a try.
The Best Shaving Bowls On the Market
In truth, the majority of shaving bowls serve the same purpose and will easily get the job done, but that doesn't mean that we don't still have our favorites.
#1 Schöne Stainless Steel Shaving Bowl with Lid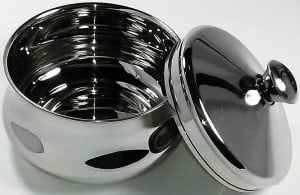 The number one best-selling shaving bowl on Amazon, this high quality stainless steel shaving bowl from Austrian maker Schöne is a great choice for those looking for a durable product that is guaranteed to last. Not only that, but its stylish design is sure to please even the most demanding tastes. That being said, the lid really isn't that necessary (unless you plan on keeping your puck of soap in the bowl after shaving), so if you're looking to save a few bucks, you could always go with the Schöne Stainless Steel Half Hemisphere shaving bowl.
#2 Edwin Jagger Porcelain Shaving Soap Bowl with Handle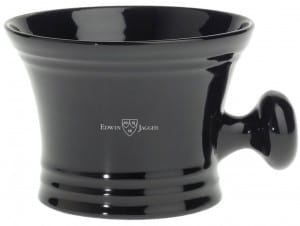 Hands down one of the most well-reviewed and best shaving bowls we've come across, the porcelain shaving bowls from Edwin Jagger do an excellent job of retaining heat to allow you to get that warm lather you desire. Not only that, but the addition of a handle makes it less likely that you'll drop it and break it, plus it's available in a number of color choices, including black and ivory. At around $30, it may be a bit more expensive than most metal or wood bowls, but we find its well worth the extra few dollars.
#3 Parker Safety Razor Genuine Mango Wood Shaving Bowl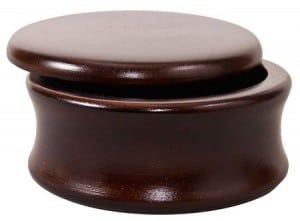 If you're looking for a beautiful wood bowl, Parker Safety Razor produces several different models that should be right up your alley, including the Genuine Mango and lighter colored Genuine Honey Mango Shaving Bowls. Both products come with a lid to allow you to store your shaving soap and come pre-varnished for long life. At around $25, these definitely aren't the cheapest wooden shaving bowls on the market, but they may just be the best. Not only that, but mango wood is one of the most sustainable woods currently available, which is a good thing for those who want to do their bit for the planet.
Hey! Don't Leave Yet!
If you found this article helpful please be so kind as to share it on Facebook or other social media per the buttons below. We really would appreciate it as we have worked so hard on this post for you. I have a feeling some of your friends and family will find it helpful as well.
Also be sure to join the Prim&Prep community! Not only will you have a chance to WIN your choice of a quality safety razor or beard oil but we will provide you with all kinds of helpful and enlightening male grooming tips and advice directly to your inbox so you don't have to waste your time fiddling on the web to find the right information to look and feel your best. There is nothing to lose and so much to gain. SIMPLY SUBSCRIBE BELOW!