Moisturize Like a Man: Best Body Lotion for Men
An increasingly large number of men are now taking their grooming and skincare more seriously, which is essential if you want to keep looking your best and prevent your skin from looking old before your time. Still, while many men now use face lotions and other skincare products, it seems that a large portion of us are still hesitant when it comes to using body lotions. The rest of the body is just as important as the face and you should perform the appropriate grooming habits to keep your body looking top notch including, body hair maintenance and skincare.
As the biggest organ in the human body, it is essential that you take care of your skin from top to bottom, which means investing in a quality body lotion to go with all of your other skincare and grooming essentials. Still, with so many different options out there, it can be hard to sort through them all to determine which is the best body lotion for men.
We've previously covered the best face lotions for men, but to help you out further in your search for the ultimate in men's skincare, today we'll give you tips on what to look for so you can more easily find the best body lotion for men.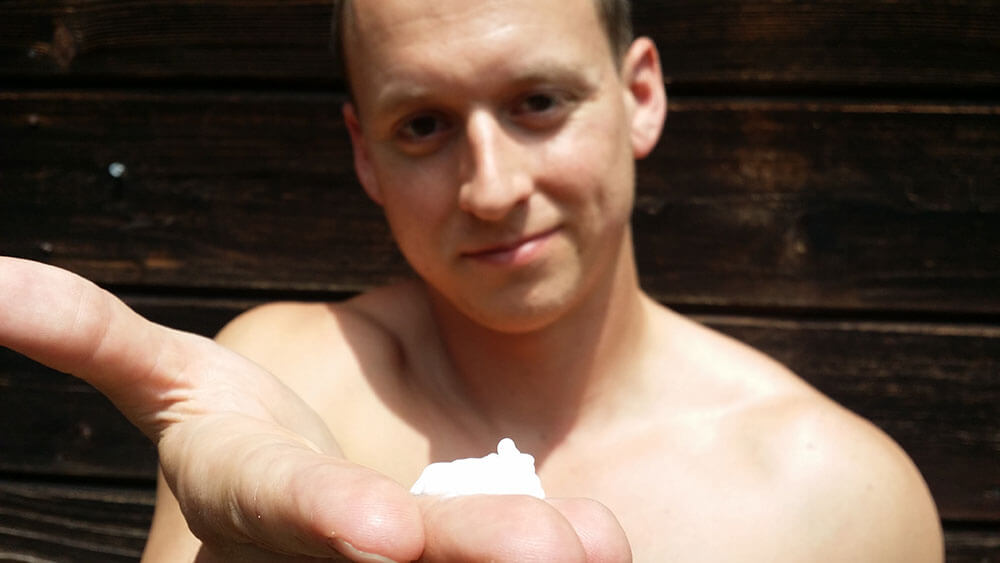 Best Body Lotion for Men: Why Should Men Use Lotion?
For most of the recent history, men who wanted to use body lotion were stuck with only a few choices—most of them either unisex or designed specifically for women's skin. However, in recent years a number of companies have begun expanding more into the men's skincare market, and there are now many excellent body lotions that have been designed to meet the specific challenges that men's skin faces.
Unlike softer women's skin, as men, we have much tougher skin that requires added protection and help to keep it looking its best. This is especially true for those of us who work outside or otherwise spend a lot of time outdoors, as the sun and the elements can wreak absolute havoc on the skin if not properly taken care of.
For this reason, we recommend that you avoid the unisex or female lotions and instead choose a high quality lotion designed specifically for men. Not only will it help to better repair and protect your skin against the elements, but the most of the products we consider amongst the best body lotion for men also typically have a more pleasant masculine scent as opposed to the florally or feminine scents in many other skincare products.
What Ingredients You Should Look For in the Best Body Lotion for Men
When searching for the best body lotion for men, it is important that you always read the ingredients so that you fully understand what it is exactly that you're putting on your skin. While there are many excellent products out there, there are just as many men's body lotions that are full of cheap chemical ingredients, which we recommend avoiding at all costs. I always recommend going as natural as possible for products that you apply to your skin and hair including deodorant, shaving cream, aftershave, beard balm, etc. Although it's not necessary to purchase an all-natural or organic lotion (although we recommend it if possible), you should at least pay attention and keep the following ingredients in mind during your search for the best men's body lotion.
Antioxidants. One of the biggest wrinkle causing problems in the body are free radicals, which are unstable molecules of oxygen that can work to damage the collagen in the skin and thus cause it to lose its elasticity. For this reason, we highly recommend looking for a lotion that contains antioxidant ingredients such as grapeseed oil, jojoba oil, rosemary extract or pomegranate.
Vitamins. For any product to be considered as one of the best body lotions for men, it needs to contain a variety of vitamins, such as B, C and E. Vitamins C and E are both antioxidants, which also help to repair and prevent skin and sun damage. In addition, certain forms of vitamin B, such as B-6, are also powerful antioxidants and can also help to reduce wrinkles and prevent further skin damage.
Sunscreen. If you work outside or simply spend lots of time outdoors, we would definitely recommend purchasing a combination body lotion and sunscreen, as this will help prevent the sun from damaging your skin. In this case, we would also recommend looking for something that is at least somewhat waterproof as well, or else you'll quickly sweat away the lotion and the sunscreen.
Alcohols. The majority of body lotions contain alcohol, which seems strange considering alcohol actually works to dry the skin out instead of moisturizing it. For this reason, we recommend avoiding any lotions that have alcohol listed as one of the primary ingredients, as these will likely be harsher on your skin. If possible, look instead for lotions that contain so-called fatty alcohols like lanolin or other natural oils.
Paraben Free. Although this is not a necessity, we highly recommend looking for paraben free lotions (although some products on our list do contain them). Parabens, such as butylparaben, methylparaben and propylparaben, have been used since the 1950s as a preservative and to help prevent fungus, bacteria growth in cosmetics. However, in recent years there have been many studies that have shown parabens to be a xenoestrogen, or a substance that mimics the effects of estrogen in the body. In addition, some studies have also linked them to certain types of cancer, which led the European Union to outright ban their use in 2012. While the FDA currently considers them safe in low levels, for our money, we really don't think using any product that mimics estrogen is really all that good of an idea for men, but it's really up to you.
Other Good Ingredients. In addition to the ingredients listed above, other good things to look for are shea butter, aloe vera, glycerin, green tea and other natural plant extracts.
The Best Body Lotions for Men
#1 Everyone 3-in-1 Cedar and Citrus Lotion for Every Man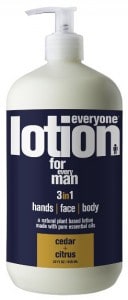 Considering the quality of the ingredients and the overall price (less than $15 for a 32 ounce bottle), Everyone's outstanding 3-in-1 Cedar and Citrus Lotion for Every Man is far and away one of, if not the best body lotion for men we've come across. The scent is mild yet invigorating, while the addition of natural and organic essential oils and numerous plant based ingredients (calendula, chamomile, aloe vera, vegetable glycerin and sesame seed oil just to name a few) ensures your skin will be fully taken care of. Plus, its 100% free from parabens, polysorbates or GMO ingredients. All in all, an outstanding choice that works equally as well for the hands, body and face.
#2 Bath and Body Works Body Lotion for Men

Bath and Body Works produces a number of different body lotions for men, which are available in several scents such as Noir, Ocean, Midnight and Oak. In our opinion, the Noir is one of the nicest of the scents they offer, which smells quite similar to many classic colognes, shaving creams and other male grooming products with scents of bergamot, cardamom, musk and amber. As far as the quality of the lotion itself, there is no real difference between the various scents, as they all contain shea butter, aloe vera, and vitamins E and B5. Plus, at less than $10 for an 8 ounce bottle, it's both affordable and of excellent quality.
#3 Jack Black Cool Moisture Body Lotion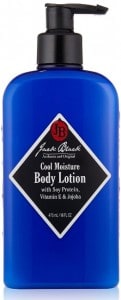 If we're being entirely honest, Jack Black's Cool Moisture Body Lotion really isn't one of our absolute favorites, as we have some reservations about it due to the fact that it contains parabens and is quite a bit more expensive than most other products on our list (around $30 for 16 ounces). That being said, it continues to receive outstanding reviews and surely ranks as one of the most popular body lotions for men so we felt that we had to include it on the list. Still, there are definitely plenty of things to like about this one, including the pleasant clean scent and the fact that it is quick absorbing and not greasy like so many other lotions. Not only that, but it contains jojoba oil, vitamin E and soy protein—all of which will help nourish, hydrate and protect your skin. However, the thing that is continually mentioned in the reviews is the addition of cooling ingredients that help to refresh and calm hot skin, which makes it feel amazing when used after working out or stepping out of the shower. I have to admit, I was very impressed. It should also be noted that Jack Black also made our list for the best face lotions for men as well.
#4 Kyoku Body Lotion for Men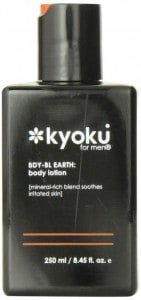 Kyoku produces four outstanding body lotions for men: Earth, Wind, Water and Fire. Earth is the most mineral rich lotion, which is meant to soothe irritated skin, whereas Water is full of vitamins and herbs and is designed for those with sensitive skin. The Water lotion contains algae extracts and is designed to soften and hydrate dry skin, while the Fire variety is packed full of antioxidants that help to repair dull looking skin and prevent wrinkles and other signs of aging. All four varieties have their own unique scents, which range from spicy to woody. In our opinion, we like the woody Earth fragrance the best, but this is really a matter of personal opinion as all four products are quite popular. The only real issue we have with this product is that the scents can be a bit overpowering and usually stay fairly strong for at least four to six hours. That being said, some men really like it just for this reason (although we wouldn't recommend it for those who wear cologne). With a price between $10-15 for 8.5 ounces, Kyoku body lotion for men is definitely an excellent option for those looking for a more fragrant lotion.
#5 Organic Men's Lotion for Hands & Body from Natural Way Organics

If we had to pick an absolute favorite or the best of the best body lotion for men, it might just have to be this amazing Organic Men's Lotion from Natural Way Organics. If you're looking for an all-natural product that is free from artificial colors, synthetic fragrances and chemicals, this is definitely the product for you. It contains a variety of natural oils, plus oats, coconut oil, vitamins E, C and aloe vera to provide excellent moisturizing properties. We also really like its pleasant, manly scent that is a mix of musk, cedar wood and sandalwood oils. Still, not only does it contain all natural and organic ingredients, but somehow it's no more expensive than most other inferior lotions on the market, as you shouldn't expect to pay any more than $15 for an 8 ounce bottle. What could be better than that?
Hey! Don't Leave Yet!
If you found this article helpful please be so kind as to share it on Facebook or other social media per the buttons below. We really would appreciate it as we have worked so hard on this post for you. I have a feeling some of your friends and family will find it helpful as well.
Also be sure to join the Prim&Prep community! Not only will you have a chance to WIN your choice of a quality safety razor or beard oil but we will provide you with all kinds of helpful and enlightening male grooming tips and advice directly to your inbox so you don't have to waste your time fiddling on the web to find the right information to look and feel your best. There is nothing to lose and so much to gain. SIMPLY SUBSCRIBE BELOW!