The Many Benefits of Using the Best Shaving Cream for Sensitive Skin
Choosing the right shaving cream can go a long way towards determining the difference between a "good shave" and a bad one, as it helps to better lubricate the face and prevent razor burn, skin irritation and other common problems associated with shaving. While this is definitely true for all men, for no one is it more true than for those of us who have overly sensitive skin.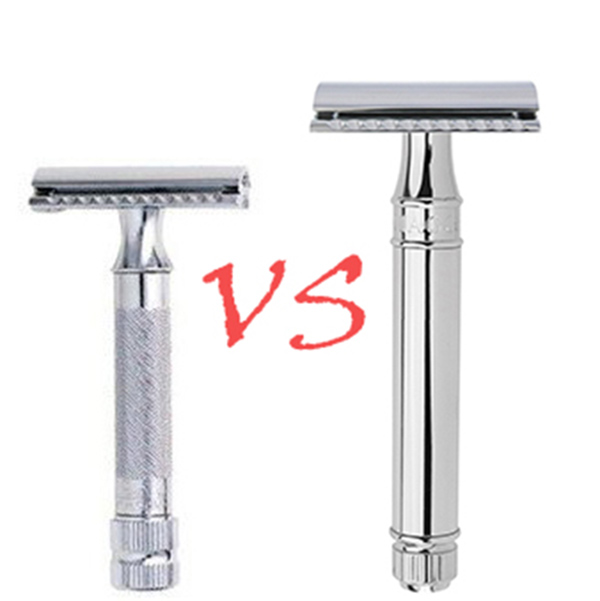 Whereas men with hardier skin may be able to use cheap aerosol shaving creams with no adverse effects, men with sensitive skin are probably fully aware of the limitations of these products and how much they can exacerbate their skin issues. Similarly, there is also a growing section of men who are looking to ditch the chemicals and who would prefer instead to find a more natural shaving cream solution.
Either way, if you happen to be in one of these two groups, you're in luck, as we're here to help by providing you with more info on the best shaving cream for sensitive skin and also the best natural shaving cream (which are often one in the same, as we'll explain below).
Who Can Benefit from Using Shaving Cream for Sensitive Skin?
Men with overly dry skin. If you routinely find your face to be extremely dry, red, itchy or flaky after shaving, you need to find a better shaving cream that will help moisturize and nourish your skin.
Men with eczema, psoriasis or other skin conditions. Similarly, harsh chemical shaving creams can make these problems much worse, so you're much better off with a more natural product.
Men with acne problems. Similar to the group above, if you suffer from acne, switching to a more natural shaving cream may help.
Men that experience severe razor burn, razor bumps or ingrown hairs. These problems could be related to your razor, shaving technique or personal hygiene (not properly washing your face before shaving), but they may also be related to your choice of shaving cream.
Why Use Sensitive Skin Shaving Cream?
Most likely you're already aware of whether or not you have overly sensitive skin (especially if you fall into one of the categories listed above), but there is also a fairly large group of men who continue to use regular shaving creams when they could in fact gain some major benefits by switching to a sensitive skin shaving cream. In simple terms, if you find that you continually suffer from pain, irritation, razor burn or other issues after shaving, one of the first things you should do is check out the ingredients in your current shaving cream as there's a good chance that is the culprit behind many of your problems.
Of course, if you still use a cheap cartridge or disposable razor, this could also be part of the issue, which is why we recommend all men switch over to a safety razor (or a straight razor if you're willing to go all out). We won't go into great detail about the differences in various types of razors (you can read about that in our article on safety vs straight razors), but basically all you need to know is that those multiple blade razors tend to remove too much skin and natural oils with each stroke, which leads to increased pain and irritation. Be sure to check out our posts on how to shave with a safety razor as well as our assessment of the best safety razors to get you started.
Still, no matter what type of razor you're using, the ingredients in your shaving cream can play a major role in how your face feels post-shave. If you're using an aerosol shaving foam or any other shaving cream that contains chemical ingredients, it is highly likely that these will be much harsher on your face. So, our first bit of advice to men with sensitive skin is to avoid any shaving creams that contain unpronounceable chemical ingredients and instead choose the best natural shaving cream.
In fact, that is why we've decided to group the best shaving cream for sensitive skin and the best natural shaving cream together, as most products we've included can fit in both categories. While Gillette and many other major companies produce a wide variety of canned shaving creams marketed for men with sensitive skin, we would definitely recommend that you avoid these, as virtually all of them contain chemicals that can wreak havoc on sensitive skin (no matter what the companies claim).
The biggest problem with these canned shaving creams is that they require the use of propellants to eject the cream from the can and these propellants are known to severely dry the skin out. So, in order to counter these effects, the manufacturer then adds a number of other chemicals that can further increase irritation for those with sensitive skin. Therefore, instead of using an aerosol shaving cream, we would recommend you choose one of the products from our list of the best shaving cream for sensitive skin (alternatively, you may also want to check out our post on the best shaving gels, as they may also help).
What to Look for When Selecting the Best Shaving Cream for Sensitive Skin?
No harsh chemicals
Fragrance free (in many cases, the perfumes used may be the culprit behind your skin issues; this mainly goes for synthetic fragrances, but also for more harsh essential oils like lemon or orange)
Doesn't come in an aerosol can
Contains shea butter, natural oils or glycerin (all provide better lubrication)
Contains aloe vera (this will help soothe & protect the face)
Best Shaving Cream for Sensitive Skin
#1 Taylor of Old Bond Street: Jermyn Street Collection Shaving Cream for Sensitive Skin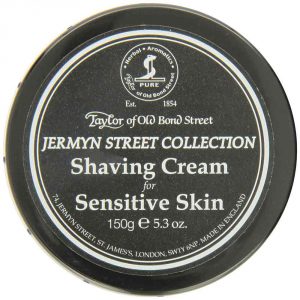 One of our perennial favorites in nearly every shaving category, Taylor of Old Bond Street's "Jermyn Street" line is marketed especially for men with sensitive skin. These guys also made our list of the best overall shaving creams and shaving soap as well. This one features a very light fragrance compared to most of TOBS other products, which is specially designed to not irritate sensitive skin (despite containing a small amount of citrus essential oils). If you're looking for a traditional, old-school shave cream that won't irritate your sensitive skin, this is definitely one of our top choices and one that fully justifies its cost.
#2 Face Skin Care: Ultimate Comfort Shaving Cream for Sensitive Skin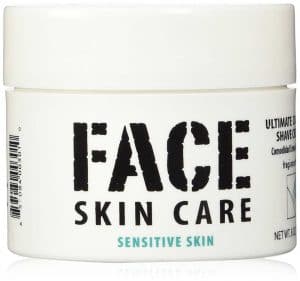 Unscented and free from parabens and other harsh chemicals, this product works equally as well for men or women and virtually guarantees a close, painless shave. Although it does contain a small amount of alcohol, the aloe, coconut oil, shea butter and glycerin more than make up for it. Still, the real star of the show is lidocaine, which works to somewhat numb the face to prevent pain and irritation.
#3 Zirh Sensitive Skin Shave Cream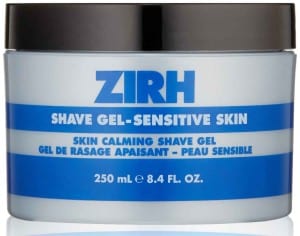 Another one of our favorites, Zirh Sensitive Skin Shave Cream contains numerous ingredients that help soothe, moisturize, nourish and protect the skin—including aloe vera juice, oat extract, glycerin and jojoba oil. Not only does it help to prevent irritation, but it also has an incredible calming effect on the skin and comes highly recommended.
#4 Kiss My Face Fragrance Free Moisture Shave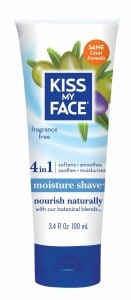 Probably the most readily available product on our list, men and women have been raving about Kiss My Face's products so much that we had to give it a try. This one contains a wide list of ingredients that work wonders for sensitive skin, including peppermint (antiseptic properties), lady's mantle (astringent), soapwort (helps cleanse and fight against acne), vitamins A & E, aloe, coconut oil and more. We found this to be one of the slickest and most lubricating products we've tried and can definitely recommend it based on quality and cost.
Best Natural Shaving Cream
Pacific Shaving Company All Natural Shaving Cream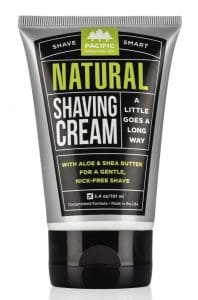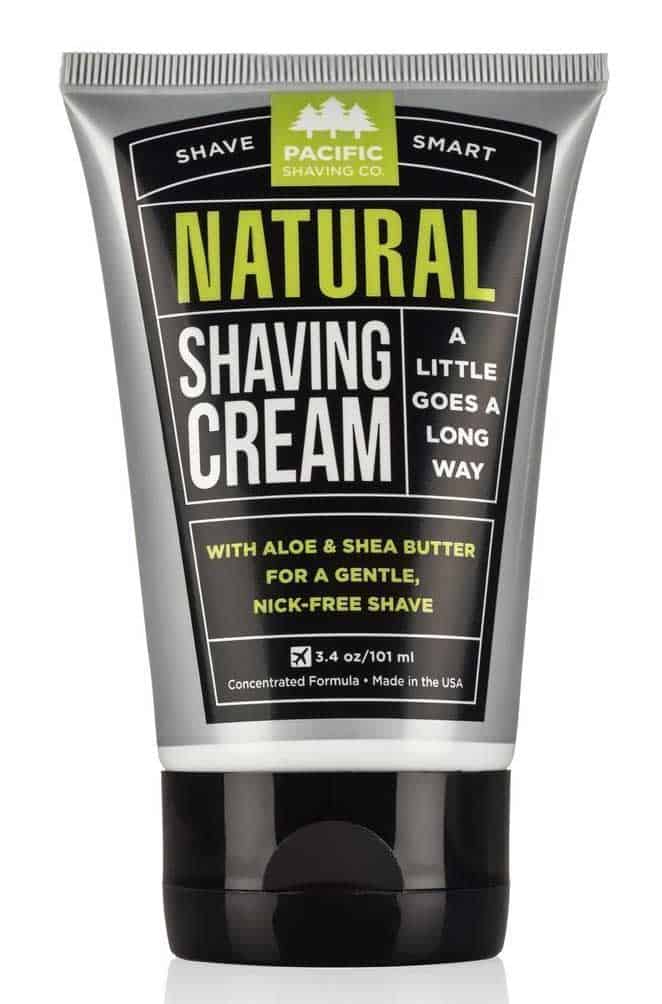 Although the products above are all great for sensitive skin, most of them still couldn't be termed "all natural". So, if you're looking for something that will help eliminate your skin issues and contains only natural ingredients, Pacific Shaving Company's All Natural Shaving Cream is right up your alley. With a very pleasing, mild fragrance and a ton of great natural and certified organic ingredients to help moisturize and protect your face, this may just be one of the best shaving creams we've yet to come across—natural or otherwise. Not only that, but one tiny tube of it lasts an incredibly long time, more than justifying its cost.
Dr. Bronner's Naked Unscented Shaving Gel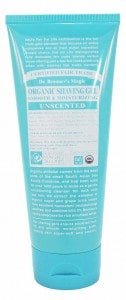 While not technically a shaving cream, we still had to include Dr. Bronner's Unscented Shave Gel, as it is all natural and works wonders for those with sensitive skin. In fact, all of the company's shave products are quite good, but we chose the unscented version as it is likely to be one of the least harsh shaving products you've ever used. While it may not lather up like you're used to, it still provides plenty of lubrication and definitely gets the job done.
If you are not sure whether shaving cream is the right product for you to check out some of our comparison article such as this shaving cream versus shaving soap as well as shaving cream versus gel. Until next time guys, get out there and have some Kickass shaves!
Hey! Don't Leave Yet!
If you found this article helpful please be so kind as to share it on Facebook or other social media per the buttons below. We really would appreciate it as we have worked so hard on this post for you. I have a feeling some of your friends and family will find it helpful as well.
Also be sure to join the Prim&Prep community! Not only will you have a chance to WIN your choice of a quality safety razor or beard oil but we will provide you with all kinds of helpful and enlightening male grooming tips and advice directly to your inbox so you don't have to waste your time fiddling on the web to find the right information to look and feel your best. There is nothing to lose and so much to gain. SIMPLY SUBSCRIBE BELOW!